A remote atmospheric observatory in Alaska delivers continuous measurements from a critical locale in the fast-warming, fragile Arctic
This is the fourth article in the yearlong "ARM30" series of stories on the evolution of ARM―its data, sites, science missions, field campaigns, and people.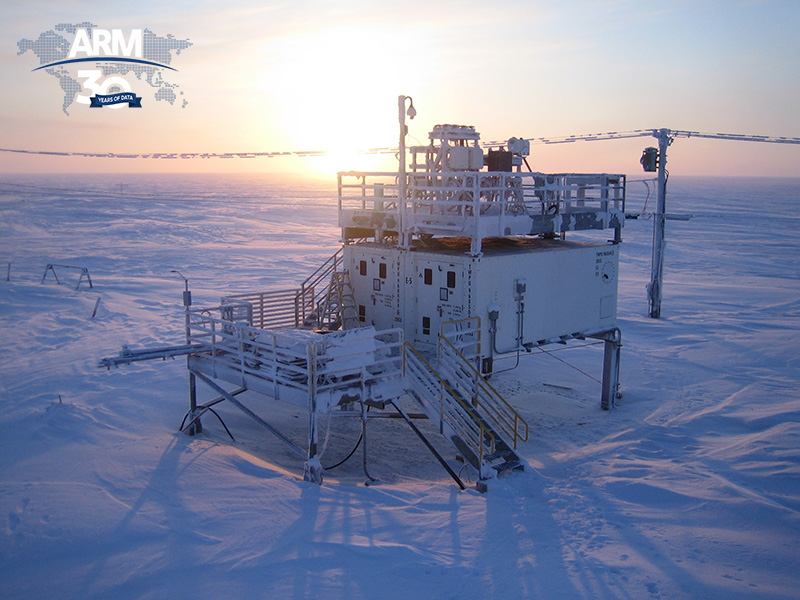 Among atmospheric scientists, some can't get enough of cold places. They love visiting and doing science in the Earth's cryosphere. That is a word for parts of the planet where water is frozen much of the year. The frozen water is in oceans, in clouds, and atop and within land.
Many cold-loving researchers have one thing in common: the use of data and other resources from the Atmospheric Radiation Measurement (ARM) user facility.
ARM's primary footprint in the cryosphere is its North Slope of Alaska (NSA) atmospheric observatory in Utqiaġvik (formerly Barrow), Alaska. This 4,000-person dot on the map, pronounced "ut-key-AHG-vic," is 320 miles north of the Arctic Circle. It's the northernmost town in the United States.
Except for an "ice road" available part of the year, no paved roads from big places lead to Utqiaġvik. The temperature there gets above freezing, off and on, about six months a year.
The NSA is among six ARM atmospheric observatories operating in climate-critical regions of the world.
In 2022, ARM, a U.S. Department of Energy (DOE) Office of Science user facility, salutes 25 years of continuous atmospheric data from the NSA. Hundreds of terabytes of NSA measurements are now freely available for use.
Researchers can find data on solar and infrared radiation, water vapor, clouds, snowfall, temperature, and other measures pertaining to weather and climate.
"The arctic NSA data record is a marvel."
Meanwhile, for those cold-loving atmospheric scientists, ARM and the NSA are frequent points of convergence.
Jennifer "Jen" Delamere at the University of Alaska Fairbanks is happiest as a researcher when the cold is burnishing her cheeks apple-red. Starting in 1994, she helped with logistics, quality control, and reporting for the NSA even before its design or siting was complete.
"The arctic NSA data record is a marvel," she says. "To have that consistency in a data record, with that number of instruments, with people watching over them this many years, is fantastic."
'A Different Planet'
Bernie Zak, now retired from Sandia National Laboratories in New Mexico, is another lover of research in cold places. He was the NSA's first site manager from 1997 to 2006.
From the beginning, Sandia took charge of the NSA. ARM, meanwhile, is a collaboration of nine DOE national laboratories.
Of the NSA's opening, says Zak, "we were well accepted from Day One."
Sandia's Mark Ivey is another drift-deep fan of arctic research―and a member of the Arctic Research Consortium of the United States.
In the 1990s, Ivey was an early organizer of the NSA and in 2006 took over NSA site management from Zak. He stayed in that role until 2019, then became science liaison.
"I like going up there in winter," says Ivey of Utqiaġvik, where for decades he visited at least 10 times a year. "It's like being on a different planet."
Altered Outlines
"Part of the allure of the Arctic has always been the very imprecision of its borders."
"A different planet" is a good way to describe the marvels and challenges of research in the cryosphere.
"Part of the allure of the Arctic," writes naturalist Barry Lopez in his classic Arctic Dreams (1986), "has always been the very imprecision of its borders."
In most of the Arctic, the seasons every year wipe out any distinction between land and sea.
In winter, features on a map become indistinct stretches of ice and snow. In spring and summer, a patchwork of boggy land and strings of water reappears, but with map-defying altered outlines.
That seasonal transmutation is true of Utqiaġvik, which is just 9 miles south of a headland called Point Barrow. That's where the Chukchi and Beaufort seas converge at the southern edge of the Arctic Ocean.
On a map, the NSA's main site is just south of Elson Lagoon, a vast, bulb-like, shore-shifting part of the Beaufort Sea.
Under the direction of site scientist Knut Stamnes, then a professor at the University of Alaska Fairbanks, the NSA began pulling in data in the summer of 1997.
The NSA was the third fixed observatory established by ARM. The Southern Great Plains began collecting data in Oklahoma in 1992, followed by the Tropical Western Pacific in 1996.
"If you want to understand the earth system," says ARM Technical Director Jim Mather, "you want to understand divergent regions."
Sites Beyond Utqiaġvik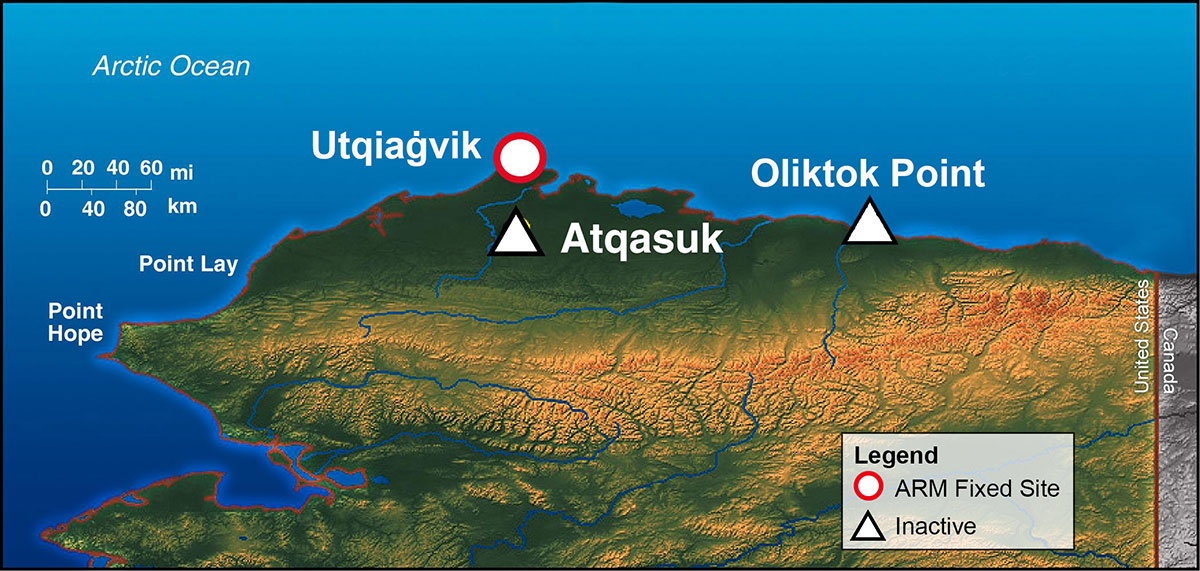 Utqiaġvik was not alone for long in ARM's Alaskan playbook.
From 1999 until 2011, ARM oversaw an ancillary site 70 miles to the south called Atqasuk (pronounced "OUGHT-kaw-sook"). The main building was nicknamed "the Pumpkin" because of its color. The site, including its routine radiosonde launches, brought in valuable data.
Importantly, tundra alone influenced Atqasuk. Its data complemented NSA data, which reflected mixed sea-and-land influences.
From 2013 to 2021, the third ARM Mobile Facility—a set of portable shelters, instruments, and communications and data systems—operated at Oliktok Point, about 160 miles east of Utqiaġvik.
This deployment hosted guest instruments, recorded air influences from a nearby oil field, and supported ARM's first tethered balloon system launches in the Arctic.
With wide flight paths licensed by the Federal Aviation Administration, Oliktok was also the go-to location for atmospheric research flights using uncrewed aerial systems.
Data from Oliktok and Atqasuk—as with all inactive ARM sites—remain freely available from the ARM Data Center.

Arctic Amplification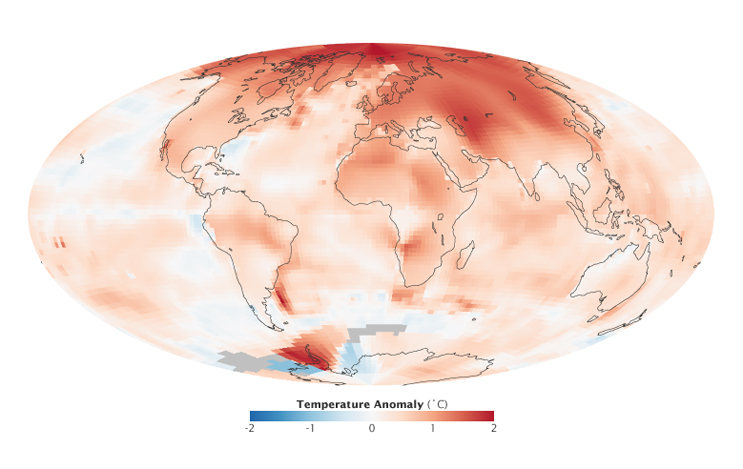 Getting ARM to the Arctic, via the NSA, required "another remote deployment in a harsh environment," says Mather, who helped establish the Tropical Western Pacific, at first in primitive jungle settings. "But from the earliest days of ARM, (the Arctic) was recognized as a priority to get up there."
One reason was arctic amplification, a term for the Arctic's faster rise in surface temperatures compared with the rest of the world.
In the 1990s, when the NSA was still in development, the climate literature acknowledged the reality of arctic amplification.
"Even then, I knew from a couple of papers published at that point that the Arctic was supposed to be more sensitive (to temperature changes) than other regions," says Delamere.
As a result, she adds, "even in those early years, I knew NSA would be very impactful."
An August 2022 study in Communications Earth & Environment estimates the rate of warming is four times faster than in 1979. Until now, accepted estimates were in the range of two to three times faster.
The study's authors acknowledge a lack of scientific consensus on the exact rate of rise, but they call arctic amplification itself "a robust fact."
University of Colorado researcher Matthew Shupe has investigated the Arctic since he was barely out of college in the 1990s. He recently visited Greenland, where a shrinking body of ice covers well over a half-million square miles.
"We've got permafrost, we've got sea ice, we've got ice sheets," says Shupe. "These things are all melting. They're changing really quickly. We need to understand how and why."
NSA data, he adds, "bring a lot to the table."
Scarce Data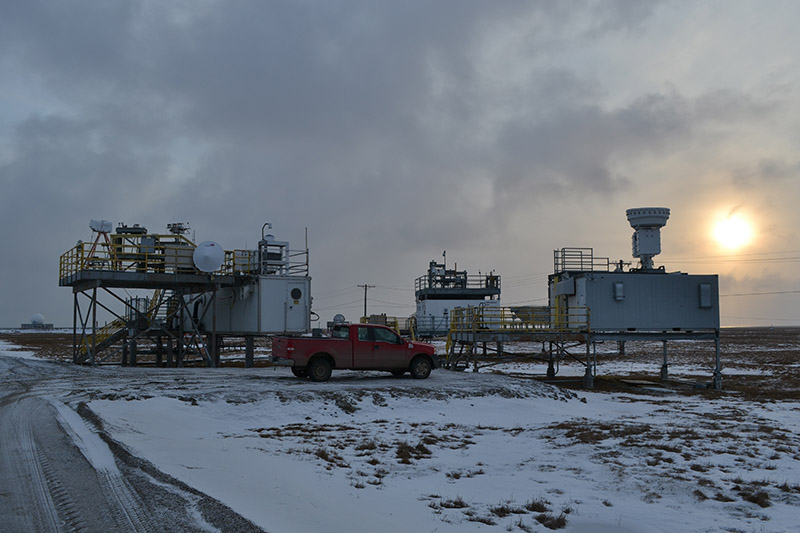 Other reasons made the Arctic a priority for ARM. One was the general scarcity of atmospheric data at high latitudes.
That scarcity included measurements of phenomena that in the 1990s comprised ARM's primary investigative mission: solar radiation and cloud cover.
The first influences the Earth's energy budget. The second does too, but it presents a particular problem in the Arctic, where clouds hang low for long periods of time. Using satellite views, that makes arctic clouds difficult to distinguish from snow and ice cover.
Ground instruments of the kind ARM could provide seemed to be a good start at resolving the issue of cloud cover.
ARM also arrived with the promise of long-term data.
"Models need long-term data," says Shupe. "It's not enough to study the clouds in October and then think that you understand clouds. You have to study them as a whole in all kinds of different conditions, all times of the year, for multiple years."
Help for Arctic Models
Even 25 years ago, arctic amplification was expected to prompt global changes to air circulation and Earth's carbon cycle.
For instance, millennia of carbon stores are sequestered in frozen arctic soils. What happens when all that carbon slips into the atmosphere as a blanket-like greenhouse gas?
"Arctic change is a profound change in the climate of the Earth."
"What happens in the Arctic does not stay in the Arctic," wrote the authors of a 2016 paper on the history and science of the NSA. Among them were Zak, Ivey, Shupe, and Stamnes.
The paper's first author was former NSA site scientist Johannes Verlinde. He is now a professor emeritus at Pennsylvania State University.
"Arctic change is a profound change in the climate of the Earth," says Zak.
ARM is taking enough measurements in and around Utqiaġvik, he adds, "so that people (can model) what is going on and to understand it in detail."
Siting the NSA
In 1992, Stamnes and Zak set out to find an optimal ARM study site in the Arctic.
Early siting documents argued for an ARM Alaskan observatory well inland, close to Fairbanks.
But in the end, Verlinde countered that "you want to sample both of those (land and water) environments," especially in the first mile or so of the atmosphere, recalls Mather. "And the ocean is so important up there. Being as close as you can makes perfect sense."
Research showed that general circulation models poorly simulated ocean-atmosphere-ice interactions at high latitudes. ARM could help.
Utqiaġvik had immediate advantages. For one, it's on Alaska's North Slope, where a mix of interesting land and sea influences are at play.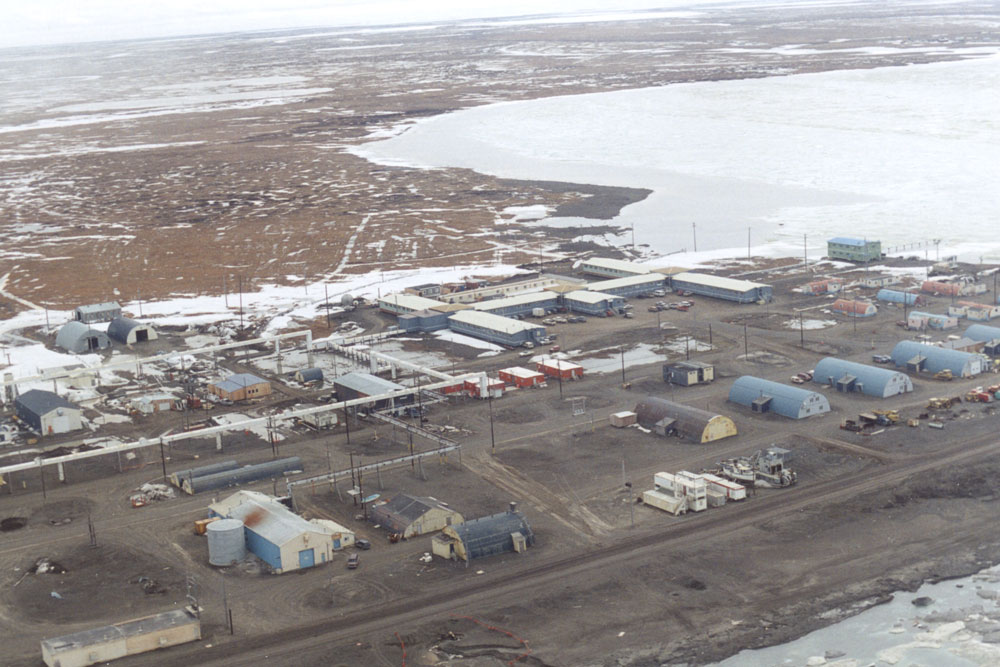 The terrain is gently sloping and free of mountains, trees, or other features that make data collection difficult.
Utqiaġvik also has relatively pristine air. In fact, ARM set up the NSA within 100 meters (328 feet) of an "atmospheric baseline observatory" run since 1973 by NOAA. The agency's four such sites around the world measure background air in its purest state.
An Arctic Science Neighborhood
Utqiaġvik had a long history as an arctic data site―more than a century by the time the NSA arrived.
Scientists have taken meteorological measurements there since the world's first International Polar Year (1882–1883). There have been three such multiyear efforts since, based on coordinated efforts to measure polar regions, including their weather, currents, tides, and geophysical properties.
The chief artifact of Utqiaġvik's science history was the Arctic Research Laboratory (ARL), which went into operation August 6, 1947. At the time, it was the only federal laboratory devoted to arctic research. (In 1967, ARL was renamed the Naval Arctic Research Laboratory, or NARL.)
Just after World War II, the idea of an arctic laboratory was entwined with the need to explore for petroleum. In 1947, when a C-46 aircraft landed at Point Barrow with seven scientists aboard, they saw a noisy oil exploration camp. Fuel drums lined the beach. Nimble utility vehicles called Weasels raced past, and offshore power barges waited to offload freighters.
But ARL's science mission, described in a paraphrased 1946 official letter, echoed what ARM became―a place "where civilian scientists from (universities), research institutions, and government departments could conduct basic studies on arctic problems."
Past, Present, Future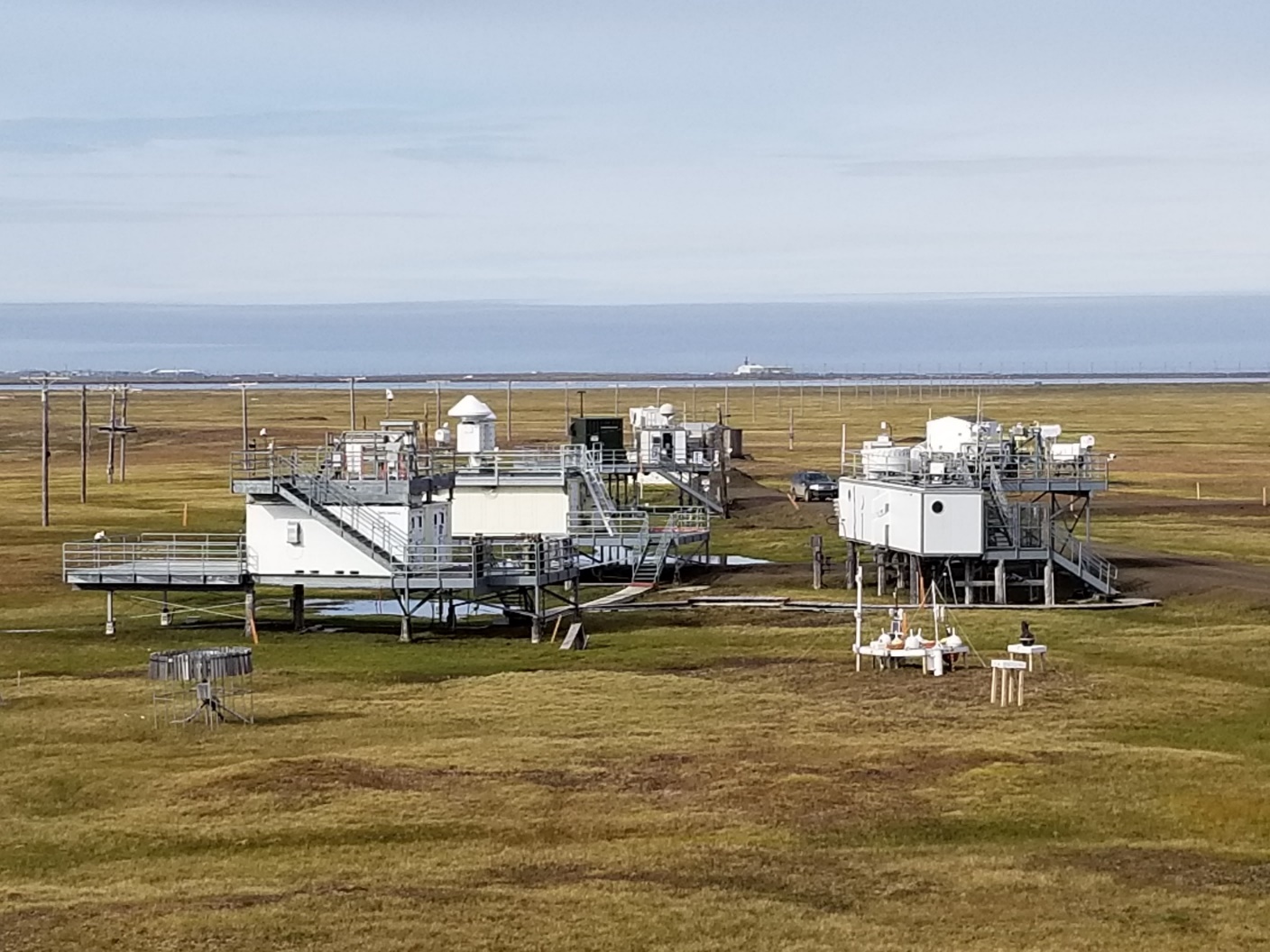 NARL ceased as an entity by that name in 1980. But those who live in Utqiaġvik still call its repurposed cluster of buildings (5 miles north of town) by that name. They also still celebrate NARL's scientific, ecological, and economic impact.
Parts of the old NARL land footprint now include the modernistic Barrow Arctic Research Center and Environmental Observatory. Both are operated by the Ukpeaġvik Iñupiat Corporation (UIC), which also oversees many NSA technicians. Native workers have been hired in such roles since the 1940s.
In early August 2022, UIC and the Utqiaġvik community at large hosted a weeklong 75th anniversary science and engineering workshop to celebrate NARL's broad legacy.
Mather and Ivey attended along with the current NSA manager, Sandia's Andy Glen.
Zak starred in a Sandia-produced video remarking on the NSA's past. In it, he called the Utqiaġvik area "probably the best-measured site of instrumentation anywhere in the polar regions," thanks to multiyear, multi-agency collaborations.
Glen delivered a few spots of news about the NSA.
By September 2022, ARM will have a new terrestrial instrument site called E12 a few miles south of the NSA's main instruments.
With five or so precipitation instruments running, says Mather, E12 "will provide another data point" to enrich the utility of NSA measurements, especially regarding "strong gradients for precipitation."
In addition, a new machine for auto-launching radiosondes at the NSA is scheduled to be operational by September 2022, with hydrogen as a lifting gas. NOAA helped with the transition from helium.
The new machine, which opens like a giant clamshell, was delivered by a heavy-cargo barge that calls in at Utqiaġvik once a year.
"It allows us to launch continuously in challenging conditions," says Mather. "It will also support the local weather service."
A Boost From SHEBA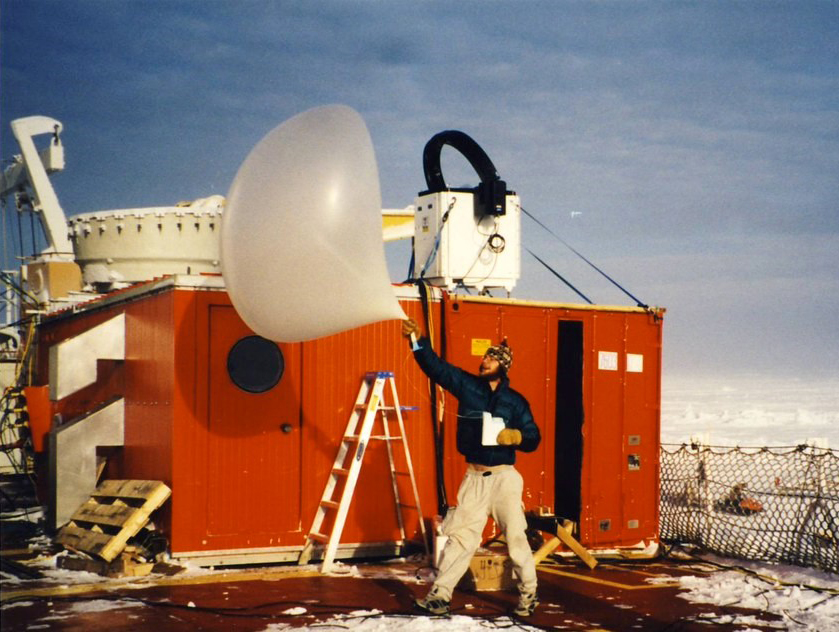 Ivey delivered remarks on the NSA's science impact and the importance of data from the former Atqasuk facility.
He also provided a guided tour of a few key NSA field campaigns that have strengthened arctic science.
One seagoing campaign is considered fundamental―a kind of mother ship for ARM in the Arctic. Surface Heat Budget of the Arctic Ocean (SHEBA) began right after the NSA started operations in 1997.
SHEBA, funded largely by the National Science Foundation, got underway a few hundred miles northeast of Alaska's North Slope. Researchers aboard a Canadian icebreaker froze the ship into an ice floe to investigate a part of the world where measurements were spectacularly scarce. The dramatic drifting campaign lasted a data-rich year and nine days.
The campaign's shipboard instruments included a few that ARM had hardened to withstand conditions at the NSA.
Delamere tested radiometers for SHEBA before the icebreaker set sail. (She stayed ashore, reluctantly, to work on her PhD dissertation.)
Shupe spent seven months at sea. Only two other researchers were on the icebreaker longer. He recalls working "on multiple important projects (and) launching tons of radiosondes."
SHEBA turned out to be a kind of dry run for the NSA science mission. It also provided a unique look at cloud and atmospheric processes for ARM and the NSA.
'A Huge Impact'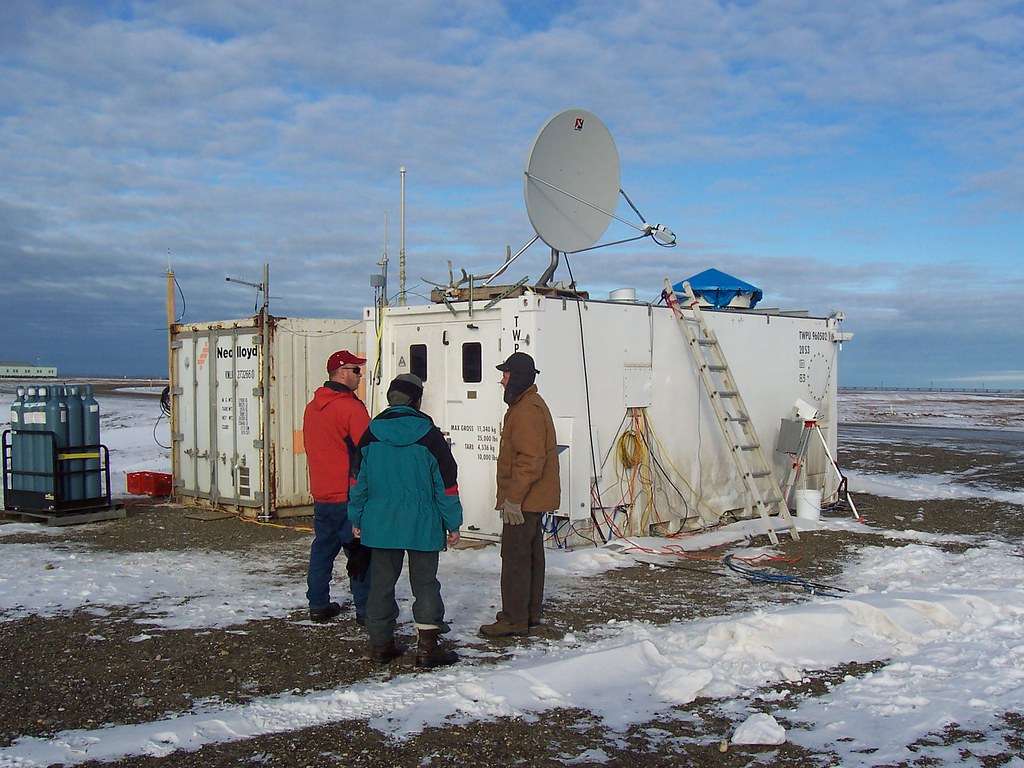 In the fall of 2004, the monthlong Mixed-Phase Arctic Cloud Experiment (M-PACE), led by Verlinde, set out to investigate the kind of clouds that dominate arctic skies―those that contain both liquid water and ice.
In the Arctic, that ice and liquid water content is consequential. It scatters solar radiation but traps and retains longwave radiation.
In a feat of coordinated cold-weather deployments, researchers used air and ground resources at Utqiaġvik, Oliktok, Atqasuk, and a radiosonde site near the Brooks Range to sweep up a data set still being tapped today.
"M-PACE had a huge impact on arctic science," says Mather.
That's especially true, he adds, when its data are paired with those from a 2008 surface-and-aircraft exercise at the NSA called the Indirect and Semi-Direct Aerosol Campaign (ISDAC). In part, ISDAC gave researchers an alternative, springtime seasonal view of the ice and liquid water content of clouds.
Mather says that the effects of climate change have been seen in NSA data.
"The Arctic is changing," he adds. "We're there as guests. We do the best we can."
Author: Corydon Ireland, Staff Writer, Pacific Northwest National Laboratory
ARM is a DOE Office of Science user facility operated by nine DOE national laboratories.