ARM Facility Marks the First Official Decade of its High-Flying Aerial Organization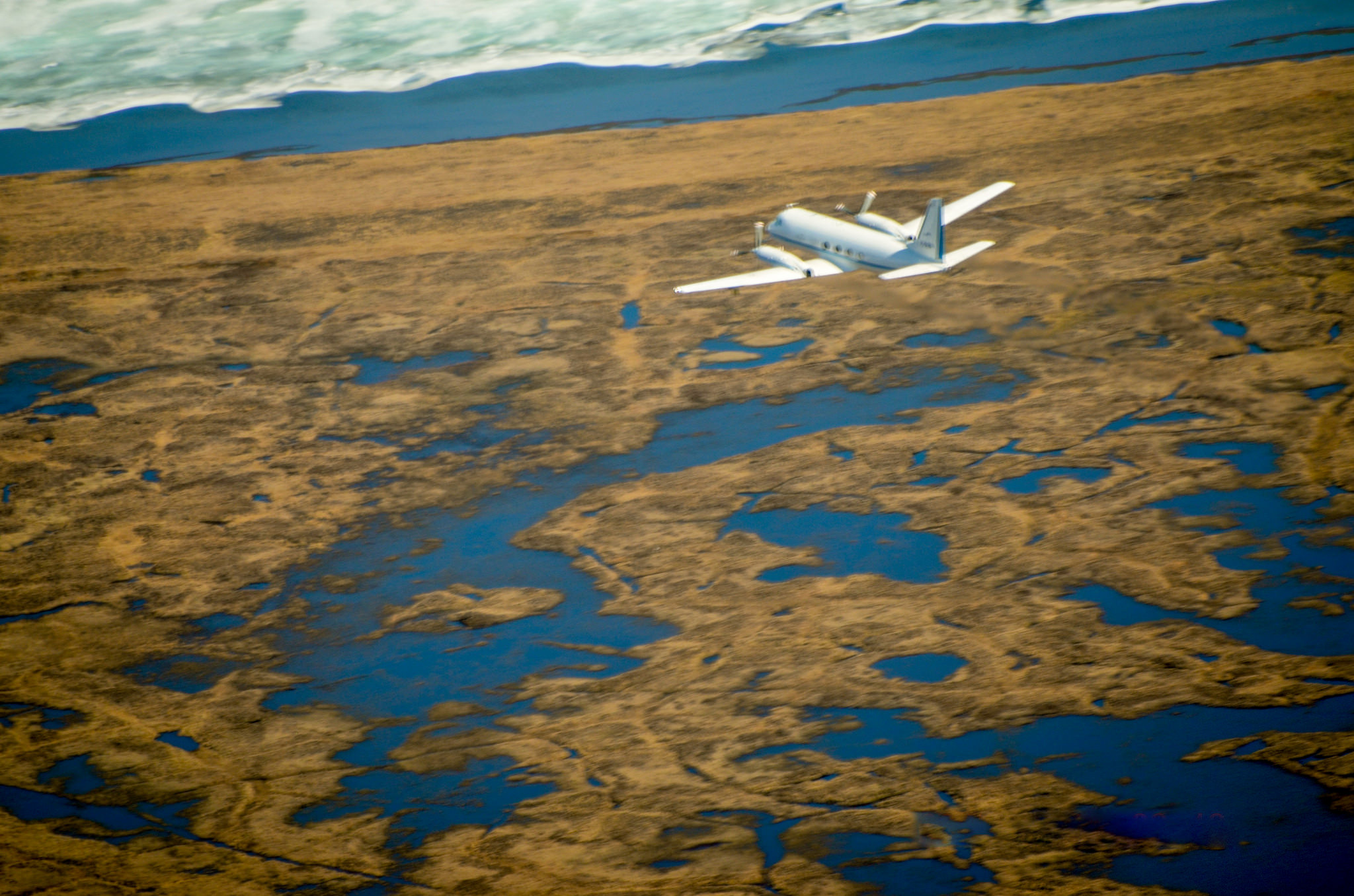 In 1749, two students from the University of Glasgow in Scotland conducted the first atmospheric temperature measurements by suspending thermometers from paper kites.
Over time, balloons, box kites, and finally planes proved their worth in measuring factors like turbulence and temperature above the Earth. The definitive demonstration of the meteorological utility of airplane platforms came in 1943, when pilot J.B. Duckworth, aloft over the coast of Texas, deliberately flew into the teeth of a hurricane.
October this year marks the tenth anniversary of the ARM Aerial Facility (AAF), one more proof of how important aircraft can be in collecting atmospheric data. AAF is part of the U.S. Department of Energy's Atmospheric Radiation Measurement (ARM) Climate Research Facility, which consolidated all its aircraft research efforts in 2006.
A decade ago ARM had no aircraft of its own and managed only a few instruments for aerial measurements. But nearly from the beginning of its 1990 founding, the program—designed at first to collect continuous climate data from ground stations—had contracted with other organizations and researchers to run experiments from the air.
ARM's surface-based measurements began in 1992 at the brand new Southern Great Plains (SGP) instrument site. In 1993, a separately funded Unmanned Aerospace Vehicle (UAV) program began a set of 12 missions that ran until 2006, including forays in Oklahoma, the Arctic, and the Tropics. (At the same time, ARM also funded other aircraft campaigns.)
Air campaigns by the UAV program resulted in high-accuracy measurements of radiative fluxes in a variety of sky conditions; cloud property measurements used to evaluate and develop techniques for cloud reflectivity, effective droplet size, and other climate-affecting factors; and satellite calibration and validation.
By 2009, with years of ARM logistical and operational experience already in hand, AAF took over operations of a Grumman G-159 Gulfstream I (G-1) owned by the Battelle Memorial Institute. The rugged twin-engine business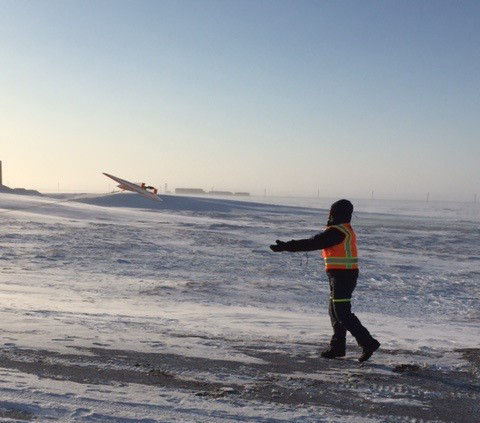 aircraft, built in 1961, had been retrofitted in 1988 for atmospheric research. Before coming into the AAF fold, it had seen continual use by the DOE and others in domestic and international campaigns. It's now based at a regional airport in southeastern Washington State near Pacific Northwest National Laboratory (PNNL), the AAF operations center.
New to the fleet in 2016 are four DataHawks, low-cost, electric-powered 3-pound aircraft that carry tiny payloads capable of measuring wind speed, turbulence, temperature, humidity, and infrared radiation. Eventually, similar miniature platforms will increase the frequency of research flights, said University of Illinois atmospheric scientist Greg McFarquhar, former chief scientist for the AAF program and a 12-year veteran of ARM field campaigns.
In 2010, the science component of ARM merged with the DOE's Atmospheric Science program to become the Atmospheric System Research program—a joining that widened the mission of the G-1 aircraft even more. That same year, the American Recovery and Reinvestment Act of 2009 made it possible for AAF to add 17 instruments; today there are more than 50.
From a handful of in-house instruments in the beginning, "we keep gaining," said AAF manager Beat Schmid, a PNNL atmospheric scientist. His interest in airborne instrumentation began as a graduate student in Switzerland, where his specialty was sun photometers, which measure atmospheric transmittance.
Science Aloft
At the heart of AAF campaigns is the 63-foot-long G-1. During campaigns, it is carefully stacked with instruments hooked to intakes that capture outside air, particulates, and liquids. On-board instruments collect data on aerosol and cloud properties, trace gases, radiation, and other factors, depending on a particular campaign's research focus. During flights lasting up to five hours, the G-1 carries two pilots and from two to five scientists on data-scouring missions below, through and above the clouds.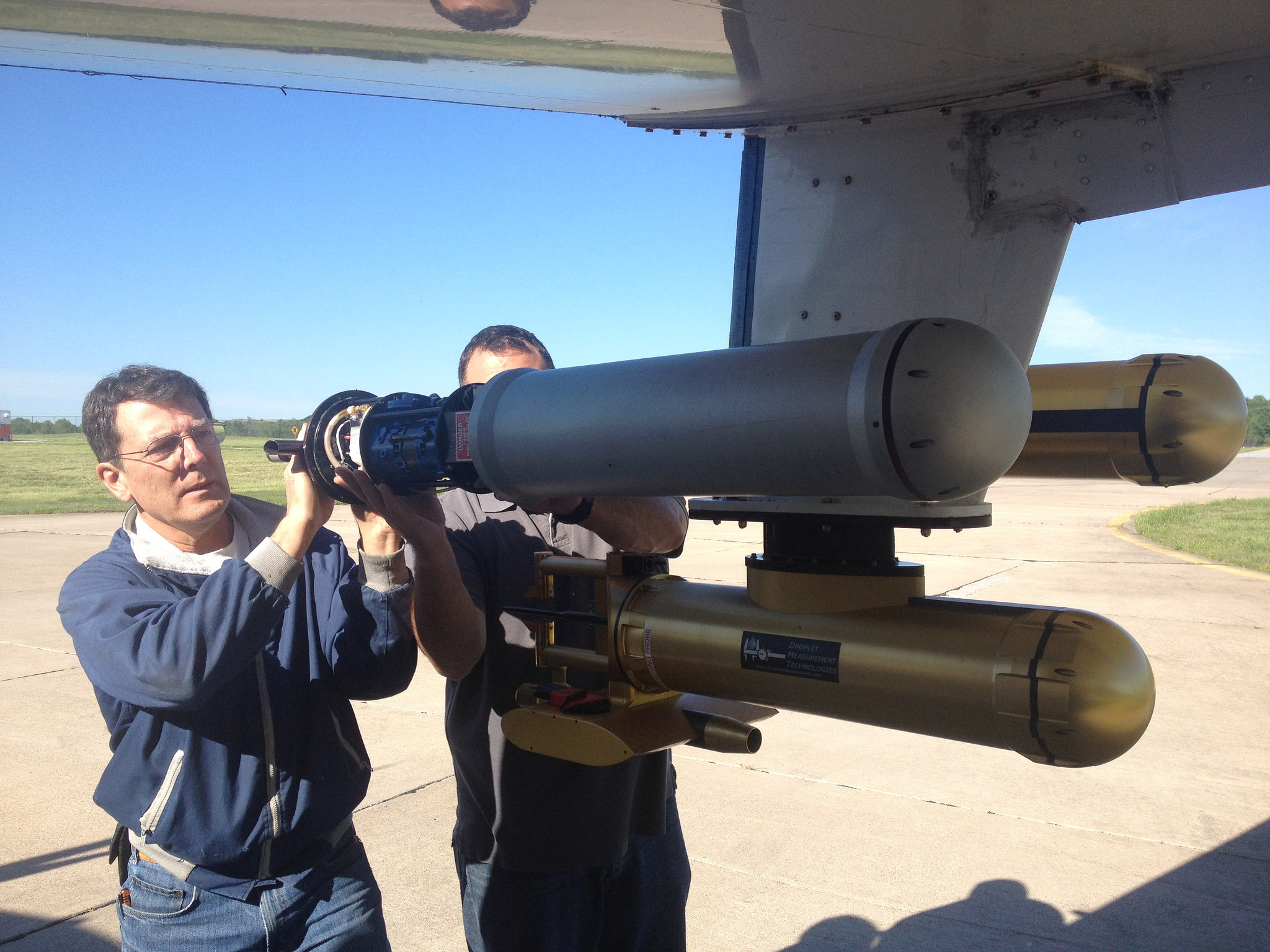 In all, data gathered aloft is a boon to scientists. It adds horizontal and vertical context to measurements gathered at traditional ground sites or by satellite. And it adds measurements impossible to do from the ground, such as cloud droplet size distributions.
Data captured in the air "are a much more direct measurement," said five-year AAF veteran Jennifer Comstock, a PNNL cloud remote sensing expert who is an atmospheric scientist and ARM's current Engineering and Process Manager.
"You get a lot of specific information," she added, which is used to validate and refine climate data from surface- and space-based measurement platforms. Airborne data, collected largely along a set of horizontal planes in the atmosphere, complements ground and sky instruments that look down or up vertically.
Those measurements from aloft, said Comstock, also acquire greater richness when the G-1 or another aircraft flies in prescribed patterns: level legs at different altitudes, spirals up and down a column of air, or "porpoising," as when the plane ascends and descends in a recurrent wave-like pattern.
AAF data so far have inspired over 70 papers, and almost 2,300 citations in the literature.
Campaigns in the Clouds
The 22 AAF campaigns so far included three and a half months of flying in a 2015 campaign to capture carbon cycle gases, aerosols, and clouds in the Arctic atmosphere, a region that is typically under-measured.
"We're trying to make the measurements people need," said PNNL Scientist and AAF Payload Director John Hubbe, a 21-year veteran of flying in the G-1. During the 16-week operation, the workhorse aircraft was based at Deadhorse, Alaska. It flew 38 flights over lakes, tundra, and sea, some of which skimmed just 300 feet over the Arctic Ocean.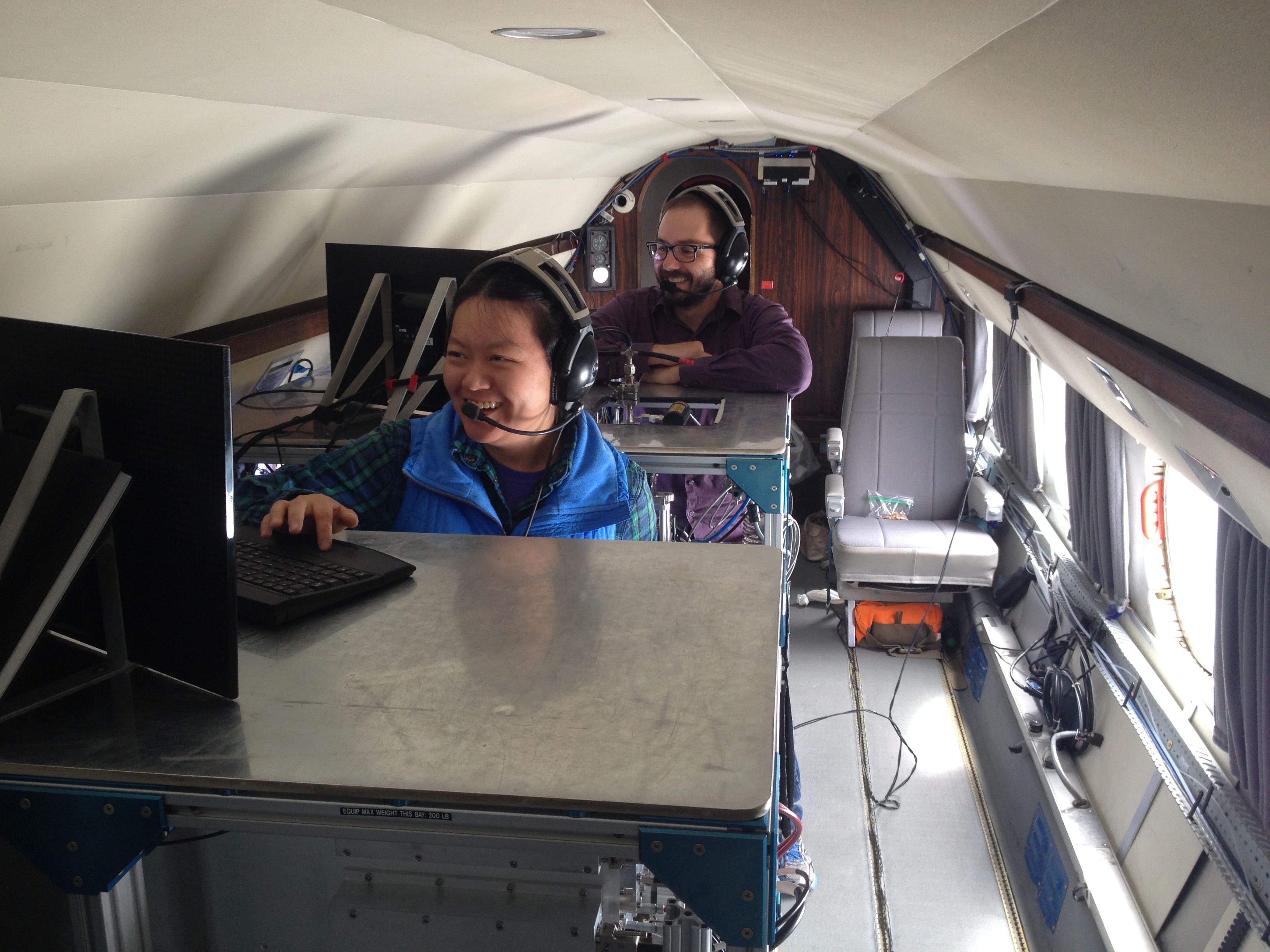 In 2014, the Green Ocean Amazon aerial campaign swept up airborne data that could untangle the aerosol inputs and cloud life cycles in the Amazon basin. The year before that, the G-1 gathered atmospheric data near active wildfires during the BBOP (Biomass Burning Observation Project) campaign.
Airborne work goes on. In late September, the G-1 aircraft returned to its home base in Pasco, Washington, after supporting two intensive observational periods of four weeks each during the five-month HI-SCALE campaign. With instruments packed into racks along each bulkhead, it flew transects at multiple altitudes over the Midwest SGP site, collecting data on convective cloud microphysics.
Brookhaven National Laboratory atmospheric chemist Stephen Springston, who has racked up more than 500 airborne research hours, had four instruments aboard the G-1. (He keeps a picture of the plane above his desk.) Springston likes the challenge of making airborne measurements, including the heat of the cabin, rocking turbulence (there is a sick bag at every chair), and the frequent recalibration of instruments.
The G-1, by the way, has won awards for its hundreds of hours of safe flying. "The emphasis is always safety first, science second," said McFarquhar, an experienced airborne researcher who has been doing aerial field campaigns in the United States since 1993.
"The G-1 is built like a brick house," said Hubbe, praising the aircraft's wings (partly milled from inch-thick aluminum) and its rugged military antecedents. He is responsible for working out the calculus of weight balance and distribution on the G-1. The complement of on-board instruments, snugged into 19-inch-wide aluminum racks and maxed out at around two tons, changes for every campaign.
During campaigns, everyone works up to 12 hours a day, has one day off in seven, and goes home in two- or three-week rotations. G-1 personnel fly 160 to 200 hours a year, often in constant turbulence.
"We fly low, slow, and in the (bumpy) boundary layer," said Schmid. "We stay in there for hours."
Inside the Aerial Submarine
During intervals between campaigns, the G-1 rests within a World War II-era hangar whose barn-like thick beams look like they were mortised in place yesterday. Ducking through the cabin door into the plane itself is like entering a second time machine, though one that suggests the same robust strength as its giant barn-like home. The cockpit, crammed with toggles and switches, is utilitarian. The close-quarters cabin is stripped of all but three stationary seats. One is big, with a wide monitor in front: the central data center.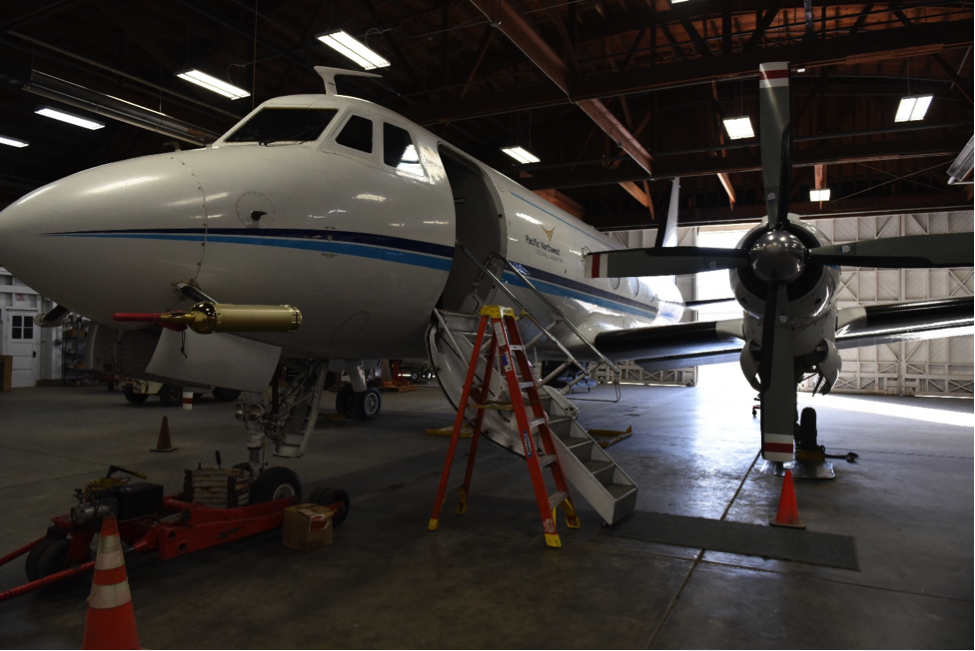 The interior fuselage, the size of a mini-submarine, has a padded curving roof. It is a mobile office waiting to be submerged again in clouds rich with climate data.
When on a mission, the former passenger cabin is filled with instruments and scientists busy at lightweight netbook laptops. When empty, the G-1's interior reveals floor tracks along either side, where cleats will hold chest-high instrument racks in place. A riot of piping and wiring, permanent hardware, brings in air and water samples from outside for instruments to measure, test, and record.
"The G-1 has been a workhorse for the program," said Schmid, who before his time at ARM had flown a lot of research missions "almost everywhere" in the world since 1995, he said, in aircraft operated by other agencies, including the National Aeronautics and Space Administration (NASA).
Blue Sky
Nothing lasts forever, even a robust airplane with a 78-foot wingspan that takes in stride its routine battering in the clouds. AAF hopes someday to have a newer one. Meanwhile, the G-1 stays busy. Its next scheduled air campaign will be in the Azores during the summer of 2017 and in the winter of 2018, flying in support of cloud and aerosol experiments at ARM's Eastern North Atlantic site on Graciosa Island.
The near future for AAF includes taking delivery in January of a modified TigerShark XP, a mid-size UAS (unmanned aerial system). It has a wingspan of just over 21 feet and at 427 pounds weighs more than a sumo wrestler. The new UAS also has four underwing hard points, carries a payload of 100 pounds (several hundred times what the DataHawk can lift), and can fly up to 12 hours.
"That can give you a lot of valuable information," said McFarquhar, who sees a big future for unmanned research flights. "You can track the evolution of the cloud."
The AAF is funded by the DOE's Climate and Environmental Sciences Division in its Office of Science's Office of Biological and Environmental Research.
# # #
The ARM Climate Research Facility is a national scientific user facility funded through the U.S. Department of Energy's Office of Science. The ARM Facility is operated by nine Department of Energy national laboratories, including the Pacific Northwest National Laboratory, which leads management of the ARM Aerial Facility.