Data now available to download; more flights planned for this summer along with data webinar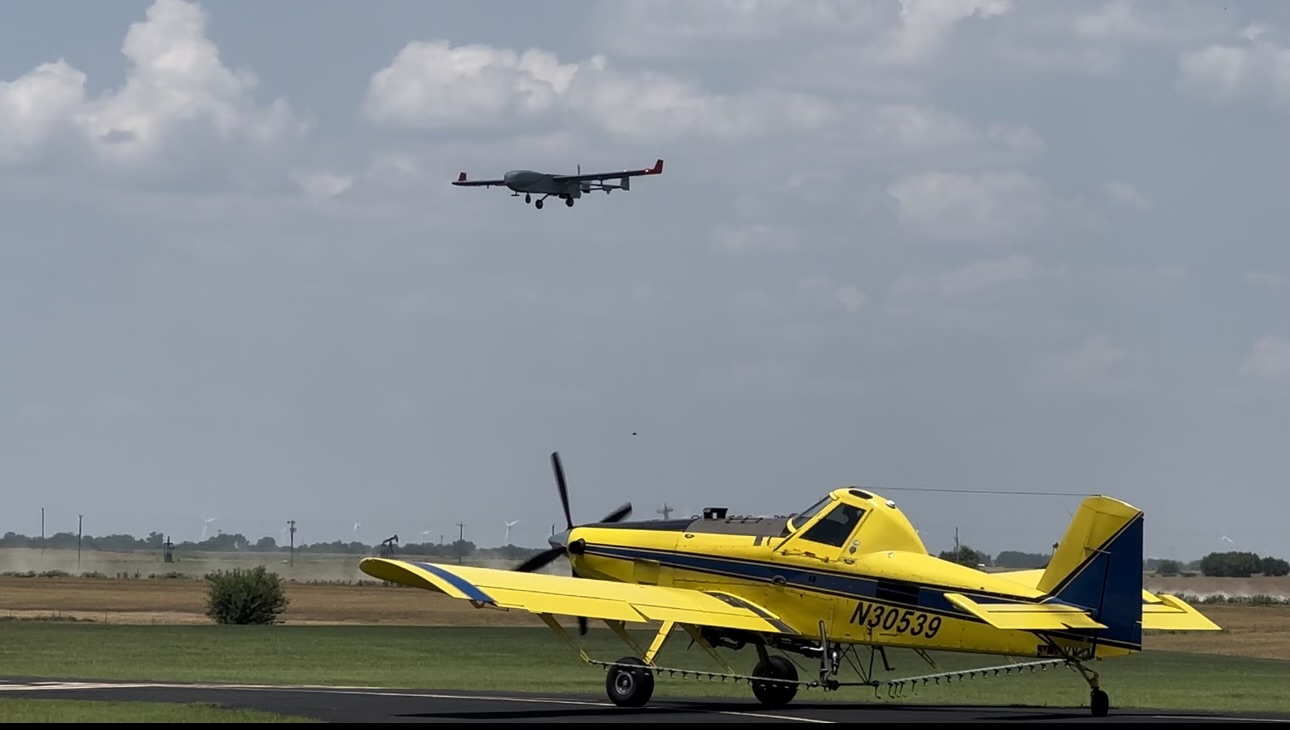 As spring 2023 gave way to the heat of summer in Oklahoma, the Atmospheric Radiation Measurement (ARM) user facility's ArcticShark uncrewed aerial system (UAS) took to the skies above ARM's Southern Great Plains (SGP) atmospheric observatory.
From June 6 to 25, the ARM Aerial Facility (AAF) team was on a mission to demonstrate reliable and routine flights while swapping payloads of atmospheric instruments back and forth during the mission. This was all done while collecting and archiving quality atmospheric data for the ARM user community. It was the second SGP deployment of the year.
"Our team did a great job," says AAF Manager Beat Schmid. "Our operations team and contractors arrived early and did the work on the ground and in the air. Our science team was highly engaged with instruments and produced high-quality data."
According to AAF UAS Operations Lead Pete Carroll, the AAF team has been progressing through a "crawl, walk, run kind of metaphor" over the past couple of years and is close to lacing up its track shoes. "It's great to see the entire team come together to develop a regular routine—a rhythm of preparing the UAS, focusing on safety, and getting wheels up for the science mission."
"We achieved all of our goals. We not only continued to demonstrate high-quality data collection under various atmospheric conditions, we were able to do this work with a variety of instrument payloads."
The ArcticShark logged 29.6 hours in the air over 12 flights and was only interrupted by the strong seasonal thunderstorms of northern Oklahoma. During this time, the science team logged 7,812 gigabytes of meteorological, aerosol, trace gas, and multispectral image data—now available on ARM Data Discovery.
"We achieved all of our goals," says AAF Science Lead Fan Mei. "We not only continued to demonstrate high-quality data collection under various atmospheric conditions, we were able to do this work with a variety of instrument payloads."
For example, on some Oklahoma flights was a miniaturized scanning electrical mobility sizer (mSEMS), which measures aerosol concentration and particle size distribution. Mei says the mSEMS allows researchers to study aerosol evolution with particles as small as 10 nanometers, especially the vertical profiles of fresh aerosols.
Mei says the mSEMS measures the aerosol number size distribution by sizing particles based on their electrical mobility diameter—a characteristic size parameter used to describe airborne particles based on their behavior in an electric field. "A key part of the success was confirming the performance of the miniaturized instrument and filters and their production of useful data."
Collaborating With EMSL
Some ArcticShark flights included a filter sampler that collected aerosols for analysis at the Environmental Molecular Sciences Laboratory (EMSL) in southeastern Washington state. Like ARM, EMSL is a U.S. Department of Energy Office of Science user facility.
The work of EMSL's Swarup China often focuses on aerosols directly swept into the air from agricultural regions, making aerial observations from the SGP ideal for his work.
"This exploratory study was an extension of our work with ARM's TBS (tethered balloon system) program," says China, noting a recent Environmental Science & Technology paper co-authored with Mei and Dari Dexheimer, ARM's lead TBS instrument mentor. While this paper focuses on TBS deployment, ARM UAS flights will use the same EMSL analysis capability.
China and his EMSL team are now analyzing collected samples and data.
Sharing the ArcticShark With the Next Generation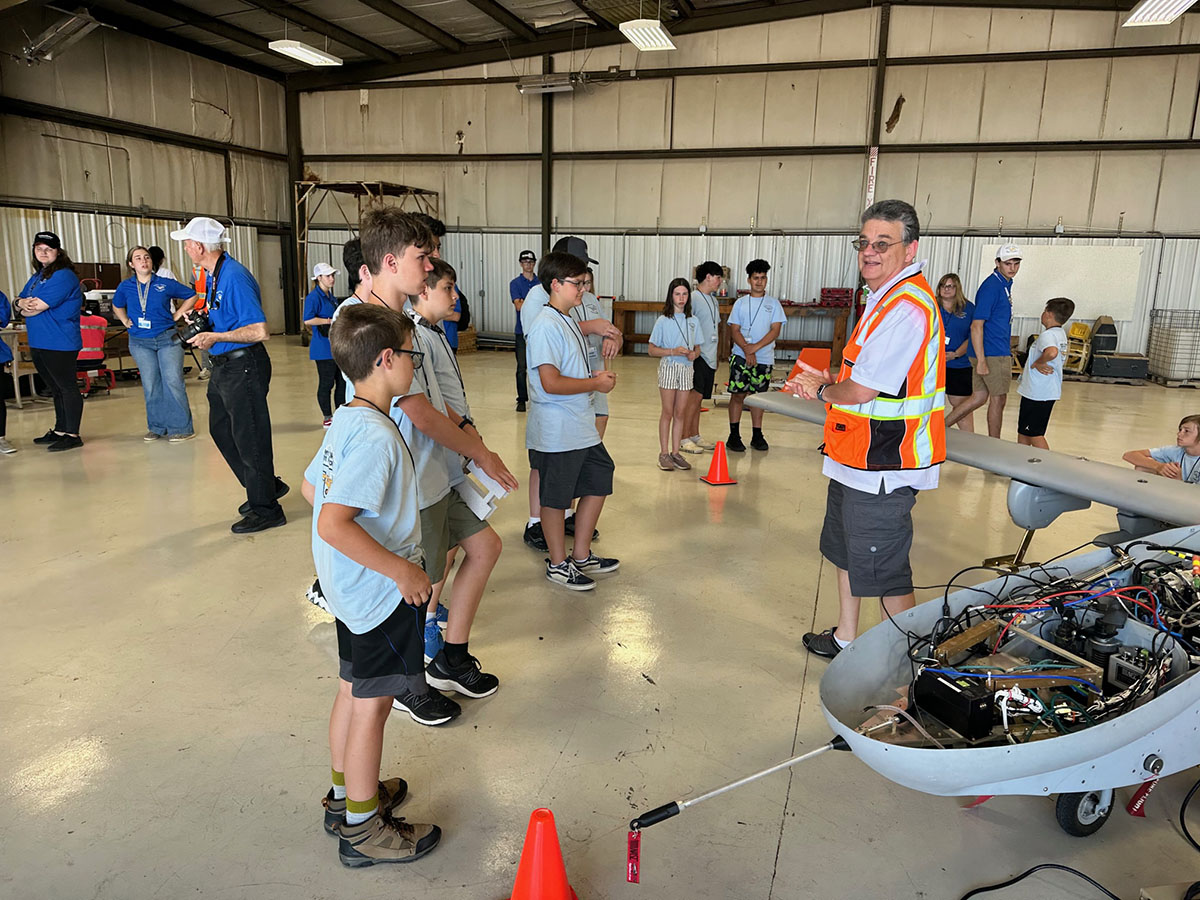 Early in the deployment, the AAF team shared the ArcticShark and UAS technologies with an aspiring group of young aviators from the Northern Oklahoma Flight Academy.
"The students got to see everything up close," says Carroll, who led the outreach event planning and organization. "They toured the ground control station, the ArcticShark's Mobile Operations Center, the hangar, and maintenance areas."
Ranging from sixth graders to high school seniors, the students had an opportunity to meet with the entire ArcticShark team, including AAF pilots and contract UAS pilots. They learned about the AAF mission and how ARM uses different instrumentation to collect aerial data.
Austin Wingo, a contract pilot from the Raspet Flight Research Laboratory at Mississippi State University, described UAS research and testing. Stephen Hamilton of Navmar Applied Sciences Corp., the ArcticShark's manufacturer, discussed how UAS are designed and built.
Across the board, Schmid says the outreach event was a success.
"It was gratifying to see the next generation stepping up with so much interest in climate science and aviation," says Schmid. "I mean, holy cow! These kids are the smartest of the smartest, and they asked great questions. It was an honor to share what we do and hopefully make an impact on their future."
What's Next for the ArcticShark?
The AAF team returns to Oklahoma in August for the third SGP mission of the year.
For these flights, explains Schmid, the team will introduce a chase plane to replace ground-based visual observers. To date, the ground-based observers have kept an eye on the skies and helped ensure safe operations by tracking the UAS, looking out for changing weather conditions, and alerting ArcticShark pilots of other aircraft in the flight vicinity.
A de Havilland Twin Otter chase plane will be piloted by an ARM pilot with an ARM visual observer in the co-pilot's seat.
"Using a chase plane allows us to expand our geographic range of operations," says Schmid. "It allows us to fly higher and, potentially, above clouds—things we cannot do with ground-based visual observers."
Learn More About ArcticShark Data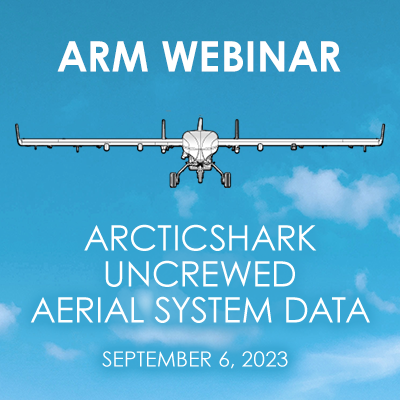 On September 6, AAF team members will host a webinar on how to access ArcticShark data and use them in research. Learn more and register.
More ArcticShark information will be shared at the 2023 Joint ARM User Facility/Atmospheric System Research (ASR) Principal Investigators Meeting from August 7 to 10 in Rockville, Maryland, and online.
Mei will present "Examples of science the ArcticShark can deliver to ARM users" during a plenary session at 12:30 p.m. Eastern time August 7. In addition, ArcticShark observations will be highlighted in numerous breakout sessions and posters.
# # #
Author: Mike Wasem, Staff Writer, Pacific Northwest National Laboratory
ARM is a DOE Office of Science user facility operated by nine DOE national laboratories.