The UEC is eager to engage with you. This is a message from the UEC Chair.
Engage With the UEC at the ARM/ASR PI Meeting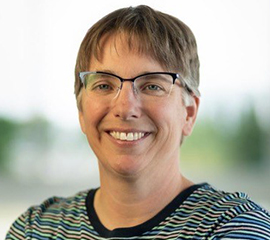 Greetings from my home in Fairbanks, Alaska! Another summer solstice has come and gone. It is now that we Alaskans tend to go out onto our landscapes, taking advantage of the berry and fish bounty around us, knowing the first snows are just around the corner. This Alaskan, however, is preparing to head to Maryland for the 2023 Joint ARM User Facility/Atmospheric System Research (ASR) Principal Investigators (PI) Meeting. And it will be a busy one for UEC members!
I am pleased to announce that Dr. Solomon Bililign will speak at the 2023 meeting as a guest of the UEC. Dr. Bililign is a physics professor at North Carolina Agricultural and Technical State University with expertise in spectroscopic techniques for atmospheric applications, including aerosol biomass burning. Dr. Bililign is invested in building capacity in the geosciences at minority-serving institutions and Historically Black Universities and Colleges. He will talk to us about the topic "Increasing diversity in geosciences – What we are doing wrong and what is working" at the Tuesday, August 8, plenary session, from 12:15 to 12:45 p.m. Eastern time.
The UEC is grateful that Dr. Bililign accepted our invitation; there will be plenty of time at the conclusion of his presentation to engage in discussion. There will be a follow-up lunchtime session Tuesday, August 8, from 12:45 to 2 p.m. We hope to see you all there.
Writing of PI meeting activities, I am thankful that Adam Theisen, ARM's instrument operations manager, came up with the great idea of having the ARM constituent group leads host a panel discussion to discuss each group's mission and how we approach important issues within ARM. As Adam recognized, "These groups play an important role in ARM, and it is important for the broader scientific community to understand what the groups are, the priorities of the groups, and how they can engage with them." Monday, August 7, 12:45 to 2 p.m. it is. At this lunchtime session, I will be joined by Adam; Christine Chiu, who leads the Cloud and Precipitation Measurements and Science Group; and Gannet Hallar and Tim Onasch, the co-chairs of the Aerosol Measurement Science Group.
That's two luncheons I've now invited you to attend. And please stop by the UEC poster to say hello and learn about our activities and insights for 2023–2024. UEC members will be there to say hello on Tuesday, August 8, from 9:15 to 10:30 a.m. We will all be fast friends by the end of the meeting.
UEC Subgroup Directions
While meeting planning and poster preparation are underway, the UEC also found time for a meeting in June. We easily managed to fill 90 minutes with a presentation from ARM Associate Director for Research Jennifer Comstock on ARM science products, PI meeting planning, and subgroup reports.
I'd like to personally thank the four subgroup leaders for the time they've put into organizing group meetings and discussions. Each subgroup has now articulated the following areas of conversation for the 2023–2024 session:
Enhancing Communication with the Modeling and Energy Exascale Earth System Model (E3SM) Communities Subgroup (chair Susannah Burrows): Increase engagement with focused efforts such as a short course or workshop between ARM users, ASR researchers, and E3SM developers.
Enhancing Communication with the Satellite Community Subgroup (chair Connor Flynn): Promote tools that temporarily and spatially co-locate satellite data with ARM measurements (e.g., WorldView, Giovanni).
Measurement Uncertainty and Communicating Calibrations Subgroup (chair Maria Zawadowicz): Identify continued discussion on long-term time series of ARM data with an eye toward providing more information to data users via instrument handbooks or other means.
Undergraduate Engagement with a Focus on Diversity Subgroup (chair Osinachi Ajoku): Improve communication of opportunities within the ARM space with universities and laboratories, and engage speakers for the annual meetings.
Our virtual meetings are so packed with interesting content that the UEC is considering meeting in person in the fall of 2023!
I haven't yet figured out how to overcome the challenges of serving coffee and donuts at virtual meetings so I'll be glad to see smiling faces at the food buffets in Rockville just a few weeks from now. But if you are attending the PI meeting virtually, with a cup of coffee in hand, you are welcome to send me or any member of the UEC an email at any time!