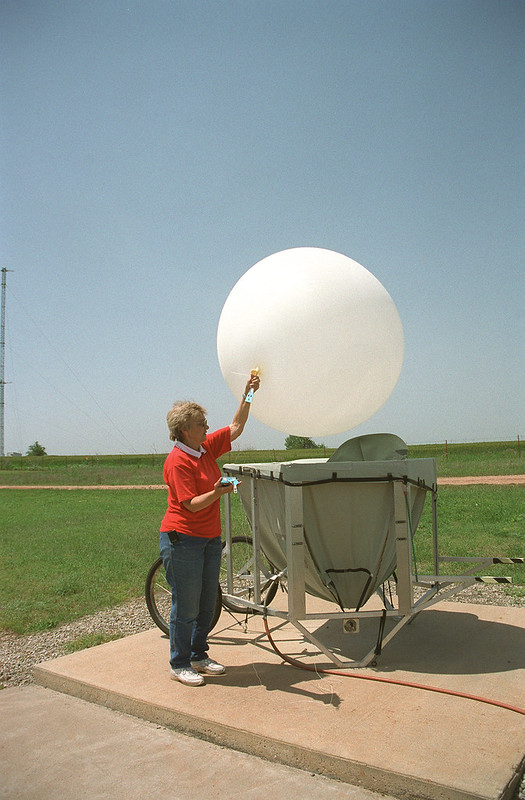 Responding to a nationwide helium supply chain disruption, the Atmospheric Radiation Measurement (ARM) user facility has temporarily cut back on weather balloon launches.
At scheduled intervals, ARM sends up balloons with radiosondes attached to collect measurements of temperature, pressure, humidity, and winds.
Because of the disruption to the helium supply chain, ARM's Southern Great Plains (SGP) atmospheric observatory has reduced its balloon launches from four times a day to twice daily. To better capture weather variability, the launch times alternate each day—00z and 12z (7 p.m. and 7 a.m. Central time) one day and 06z and 18z (1 a.m. and 1 p.m. Central) the next.
In addition, the SGP has moved from three or four launches weekly to one per week for Joint Polar Satellite System (JPSS) validations.
If a launch fails, no reattempts will be made.
ARM is working with contractors to determine whether the helium disruption could affect balloon launches for the TRacking Aerosol Convection interactions ExpeRiment (TRACER), currently happening near Houston, Texas. Right now, launches are going on as scheduled.
Launches also are taking place as planned for the Surface Atmosphere Integrated Field Laboratory (SAIL) campaign near Crested Butte, Colorado.
The hope is that the helium disruption will resolve in 90 to 180 days, says SGP Site Manager Mike Ritsche.
ARM uses hydrogen for weather balloon launches at its Eastern North Atlantic and North Slope of Alaska observatories. ARM continues to review the process of moving from helium to hydrogen at other sites. Though hydrogen is lighter and cheaper than helium, there are special safety concerns over using hydrogen because it is a flammable gas.
"Systems are developed in conjunction with laboratory SMEs (subject matter experts) for remote filling and launching of the balloon so personnel are not in direct contact with the balloon when it is filled or is filling with hydrogen," says Ritsche.
Planning for Tethered Balloon Flights
Tethered balloon systems (TBS) use helium as well, but ARM has a stockpile in reserve for an April mission at the SGP.
After flights in February at the SGP, the TBS crew proactively left the balloon partially inflated to further minimize the potential disruption.
Later this year, ARM plans to fly TBS during the SAIL campaign. To prepare for limited site access because of snow, ARM will continue as planned to get helium to the site before road closures.
TBS flights for TRACER are scheduled from June through September, during the campaign's intensive operational period. At this time, ARM's helium supplier expects that it will be able to provide helium for the TRACER flights, says Dari Dexheimer, who manages ARM's TBS flights.
# # #
ARM is a DOE Office of Science user facility operated by nine DOE national laboratories.