With March being Women's History Month, the Atmospheric Radiation Measurement (ARM) user facility wants to acknowledge the many women who have been important contributors to ARM's history.
The list below is by no means comprehensive. Rather, this page features a collection of articles about or by ARM program managers, infrastructure staff, User Executive Committee (UEC) members, constituent group chairs, principal investigators, and other scientists participating in field campaigns.
Also, please take a moment to watch the accompanying video that captures some of the great work done by women throughout ARM's history.
U.S. Department of Energy (DOE) ARM Leadership
Sally McFarlane
ARM Program Manager, 2014 to present
Sally McFarlane co-managed DOE's Atmospheric System Research (ASR) program for a year and a half before moving to ARM in 2014. McFarlane also co-manages a topic in Atmospheric Measurement Technology for DOE's Small Business Innovation Research (SBIR) program. As an active researcher, beginning in 1999, McFarlane racked up 50-plus peer-reviewed publications―many of them on the atmospheric radiative effect of clouds and aerosols. Her work included studies of dust storms in sub-Saharan Africa, ice and mixed-phase cloud properties (using NASA satellite data), and the utility of uncrewed aerial systems in arctic Alaska.
Read more about McFarlane here.
Wanda Ferrell,
ARM Program Manager, 1994 to 2014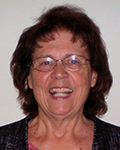 In 2014, Wanda Ferrell concluded a storied 20-year career with ARM. She went out in style by overseeing an ambitious field campaign on air quality and land-atmosphere interactions in the Amazon. Ferrell joined the ARM program management team in 1994 and from 2000 to 2006 sharpened its mission of continuous measurements as science team lead. Under Ferrell's leadership, ARM was designated as a DOE Office of Science national user facility in 2003. She oversaw the development of flexible observational assets called ARM Mobile Facilities, guided a major deployment of new instruments in 2010, established collaborations with European partners, and in 2013 directed the opening of an ARM fixed site in the Azores.
Read more about Ferrell here.
ARM Infrastructure Management Board
Jennifer Comstock
ARM Engineering and Process Manager
Pacific Northwest National Laboratory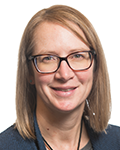 After earning her PhD in meteorology at the University of Utah, Jennifer Comstock moved to Washington state to join Pacific Northwest National Laboratory in 2000. It was there she acquired a deep familiarity with many facets of ARM, including as a science translator, deputy director of the ARM Aerial Facility, and now as the scientist who coordinates development activities and sets priorities for ARM's measurements and science products. In time, Comstock took part in at least a dozen ARM field campaigns, often as a resident expert on remote-sensing techniques. ARM data have informed most of her more than 50 peer-reviewed papers, which show Comstock to be a student of all things cloud, including their processes, life cycles, convective properties, optical depths, aerosol burdens, and radiative effects.
Read Comstock's latest development blog post here.
Nicki Hickmon
ARM Associate Director for Operations
Argonne National Laboratory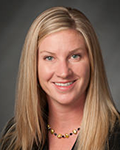 In 2004, with a master's degree in meteorology in hand from the University of Oklahoma, Nicki Hickmon set out on a career that has included software development, project management, ARM Mobile Facility instrument maintenance, a stint as facility manager of ARM's Southern Great Plains atmospheric observatory, and extensive fieldwork. She has been part of ARM campaigns in mountainous Colorado, the Maldives, aboard a ship transecting the Pacific, and at a snow-cloaked field site in remote, boreal Finland. In addition to her ARM role, Hickmon is a member of the core team for DOE's Artificial Intelligence for Earth System Predictability (AI4ESP) initiative. Its mission is to develop AI strategies to improve earth system predictability.
Read more about Hickmon here.
ARM User Executive Committee (UEC)
Allison C. Aiken
UEC Chair/Representative for Aerosol Measurements, Cloud-Aerosol-Precipitation Interactions
Los Alamos National Laboratory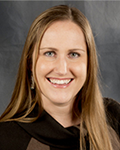 Allison C. Aiken is a highly cited author of more than 50 papers, most of them on the properties, evolution, and transport of aerosols. These ultrafine liquid and solid particles influence cloud formation, precipitation, and the amount of solar radiation reaching the Earth's surface. Among the aerosols Aiken studies are those from wildfires, which can scatter for thousands of miles or linger to influence regional weather and air-quality conditions. Presently, Aiken leads the aerosol science team for a large and long ARM field campaign looking at land-atmosphere interactions in a remote, mountainous region of Colorado.
Read more about Aiken here.
Jennifer "Jen" Delamere
UEC Vice-Chair/Representative for Radiative Transfer
University of Alaska, Fairbanks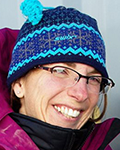 Jen Delamere studies the Arctic's environment, snow, and atmosphere. Currently, she is part of a multiyear project recording how springtime snowmelt influences the reflectivity of snow and other surface features. Delamere has two other main roles. She is the director of the Geographic Information Network of Alaska and a longtime software developer. (Delamere is on a multistate team tasked with continuously improving broadband radiation code for the rapid radiation transfer model.) As part of the UEC, Delamere chairs a subgroup for enhancing communication with the satellite community. In 2023, Delamere will become the UEC's next chair.
Read more about Delamere here.
Susannah Burrows
UEC Representative for Aerosol Modeling
Pacific Northwest National Laboratory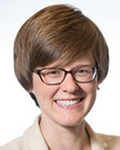 In second grade, a teacher asked Susannah Burrows to keep a daily journal of the weather. From there, curiosity took over. Today, Burrows leads a team of scientists studying the tiny atmospheric particles that initiate ice formation in clouds. The team is using particle samples from the Southern Great Plains and the Southern Ocean. Within the UEC, Burrows chairs a subgroup to enhance communication with scientists working with DOE's Energy Exascale Earth System Model (E3SM) as well as the modeling community at large.
Read more about Burrows here.
Jessie Creamean
UEC Representative for Aerosol Measurements
Colorado State University
Jessie Creamean, an Illinois native with a taste for research in the world's coldest places, is a specialist in aerosols. She is an ARM aerosol mentor and a widely published university author who hopes to attract more users to ARM data. Creamean mainly investigates ice-nucleating particles, the bits of matter—dust, pollen, sea spray, and more—that seed ice in clouds. They affect the reflectivity of clouds and help make precipitation possible. In September 2019, Creamean was among the first scientists to head for the central Arctic on a research icebreaker as part of the Multidisciplinary Drifting Observatory for the Study of Arctic Climate (MOSAiC) expedition.
Read more about Creamean here.
Christina McCluskey
UEC Early Career Representative
National Center for Atmospheric Research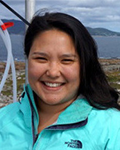 While still an undergraduate, Christina McCluskey was struck by the idea of the atmosphere as a "thin blue line" that shields the Earth and makes life possible. As a research scientist, she specializes in cloud microphysics. McCluskey's wide research interests include ice-phase microphysics, polar aerosols, and the role of ocean environments in aerosol formation. She is an avid believer in close observations of Earth's thin blue line. On the UEC, McCluskey is eager to improve the links between ARM data and the modeling community.
Read more about McCluskey here.
Yunyan Zhang
UEC Representative for Land-Atmosphere Interactions
Lawrence Livermore National Laboratory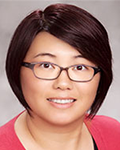 Yunyan Zhang models the life cycles of clouds and the complex interactions of land and atmosphere. Her work attempts to overcome the uncertainties in numerical simulations of the Earth's atmospheric boundary layer. That's the lowest band of the atmosphere, where weather happens. It is also where clouds are influenced by surface conditions, including heat fluxes, wind, and complex vegetation. Zhang also studies the atmospheric diurnal cycle, which causes variations in daytime and nighttime temperatures near the Earth's surface. Modeling the links between land and atmosphere is critical for predicting regional weather as well as the climatic state of earth systems.
Read more about Zhang here.
Paquita Zuidema
UEC Representative for Aerosol Measurements, Land-Atmosphere Interactions
University of Miami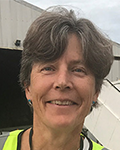 One special interest of atmospheric scientist Paquita Zuidema is the nature of smoke that blows westward over the subtropical southern Atlantic. The smoke is largely from fires set intentionally by farmers in Africa, and it mixes with vast marine stratocumulus cloud decks. Worldwide, these marine expanses of low clouds have profound influences on the atmosphere. In 2016 and 2017, Zuidema led the 17-month Layered Atlantic Smoke Interactions with Clouds (LASIC) field campaign on Ascension Island. She is still studying LASIC data for clues into the evolution of such clouds and how they are affected by shortwave-absorbing aerosols linked to the smoke.
Read more about Zuidema here.
Science Constituent Group Chairs
Christine Chiu
Cloud and Precipitation Measurements and Science Group Chair
Colorado State University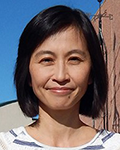 Christine Chiu is a widely published student of clouds, which she calls "complicated 3D objects that evolve fast." Chiu wants to improve how current climate models represent cloud properties. That means using data from scanning cloud radars and other instruments to boost our understanding of cloud physical processes. Her work has also led Chiu to explore artificial intelligence, including machine learning, which is "a perfect marriage," she says, with voluminous ARM data. At Colorado State, Chiu's research group investigates remote sensing, radiative transfer, and the interlocking relationships of clouds, aerosols, precipitation, and radiation. Her work as an ARM science group chair brings together experts in engineering, instrument operations, and data translation.
Read more about Chiu here.
Allison McComiskey
Aerosol Measurement Science Group Chair
Brookhaven National Laboratory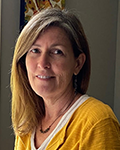 Allison McComiskey is an expert on aerosols, the ultrafine particles or droplets of water that make clouds and precipitation possible. A native of New Orleans, Louisiana, she moved from an early career path in archaeology to a PhD in geography to her present work improving the models that predict future climate scenarios. For that, aerosols are her main scientific lens, partly as the key to understanding "how light energy and heat energy transfer through the atmosphere," says McComiskey. To get models right, along with estimates of Earth's energy budget, she also works to improve the instruments that enable more precise measurements of aerosols and clouds.
Read more about McComiskey here.
In the Field
Lynn Russell
Scripps Institution of Oceanography at the University of California, San Diego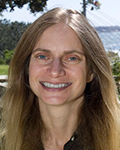 A professor of atmospheric chemistry, Lynn Russell will lead ARM's Eastern Pacific Cloud Aerosol Precipitation Experiment (EPCAPE) from February 2023 to February 2024. EPCAPE (pronounced "ep-CAPE") will array instruments at the urbanized coastal edge of the eastern Pacific. The instruments will record how aerosols from polluted and pristine sources affect low marine stratocumulus clouds. Data will capture cloud spatial extent, radiative properties, precipitation, and aerosol interactions and concentrations. From 2015 to 2017, Russell was a co-investigator for the ARM West Antarctic Radiation Experiment (AWARE), considered the most comprehensive meteorological field campaign in West Antarctica since 1957.
Read more about Russell and EPCAPE here.
L. Ruby Leung
Pacific Northwest National Laboratory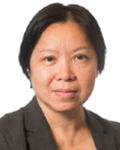 L. Ruby Leung's "quest for thinking deeper" goes back to her childhood in Hong Kong. Today, this student of extreme weather is among the most recent DOE Distinguished Scientist Fellows. She is also a pioneer in exploring climate-shifting phenomena called atmospheric rivers. These narrow bands of enhanced water vapor are linked to warm elements of tropical cyclones over the Pacific and Atlantic oceans. Leung studied atmospheric rivers as the lead scientist of the 2015 ARM Cloud Aerosol Precipitation Experiment (ACAPEX). Currently, she is on the core science team for ARM's Surface Atmosphere Integrated Field Laboratory (SAIL) field campaign in Colorado.
Read more about Leung's honor as a DOE Distinguished Scientist Fellow here.
The Women of ACE-ENA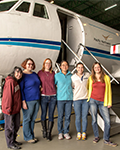 Women have been part of ARM science and data discovery from ARM's beginning more than 30 years ago. But a single ARM field campaign stands out as having one of the largest (if not the largest) groups of female participants. At least 13 women were involved in the 2017–2018 Aerosol and Cloud Experiments in the Eastern North Atlantic (ACE-ENA) campaign. The women were co-investigators, forecasters, data analysts, and instrument mentors. ARM's Gulfstream-159 (G-1) research aircraft had eight women working on it—the most on an ARM campaign.
Read more about their contributions here.
Learn about the work of female researchers supported by DOE's Atmospheric System Research (ASR).
# # #
Author: Corydon Ireland, Staff Writer, Pacific Northwest National Laboratory
ARM is a DOE Office of Science user facility operated by nine DOE national laboratories.