Third ARM Mobile Facility will soon embark on extended stay in the Southeastern United States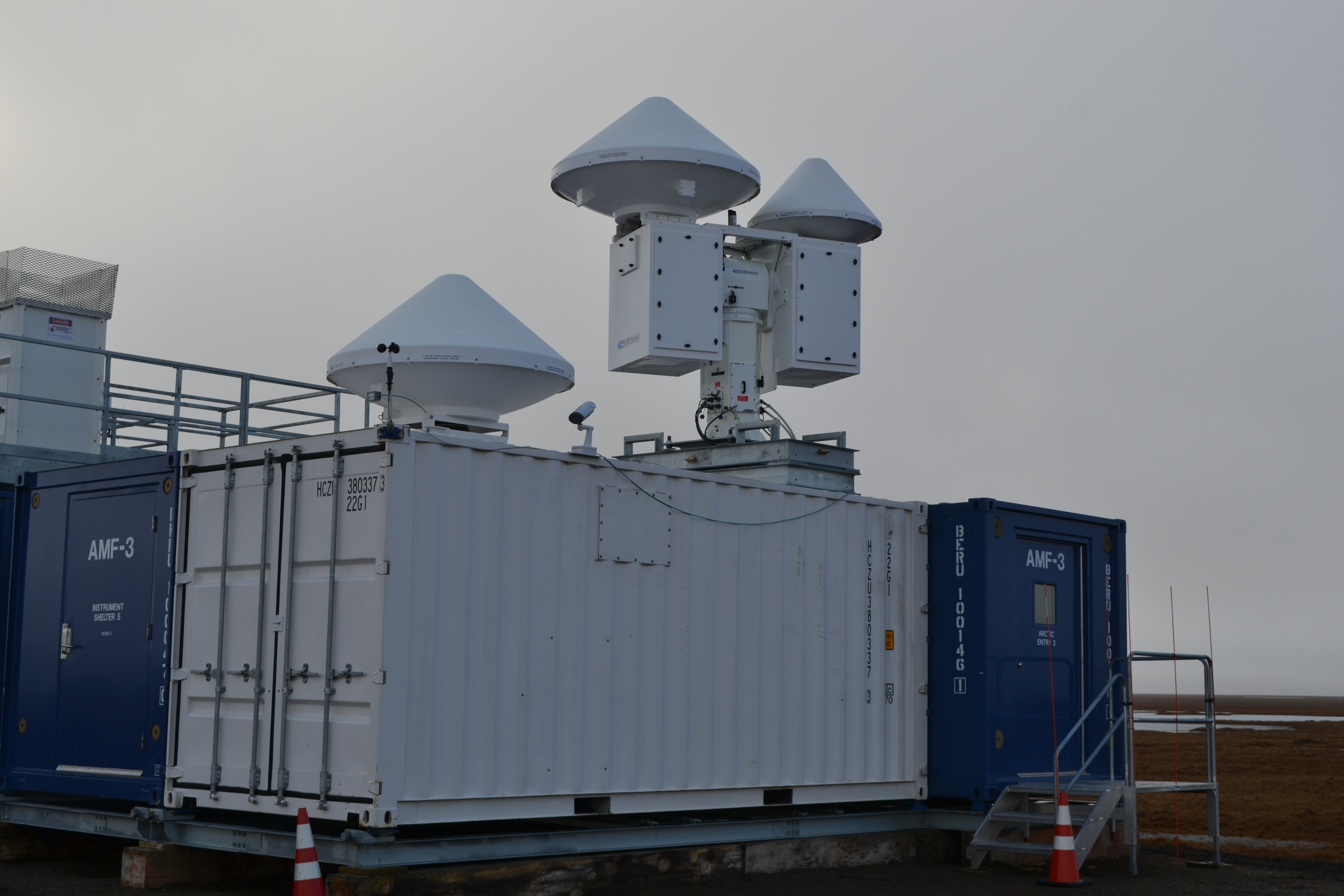 The Atmospheric Radiation Measurement (ARM) user facility plans to begin operations of the third ARM Mobile Facility (AMF3) in the Southeastern United States in 2023.
With that time frame in mind, ARM site operations staff have been working with the AMF3 site science team to pin down the deployment's central location. The site science team, which is developing the science plan and initial research project for the new deployment, is supported by the U.S. Department of Energy through ARM and Atmospheric System Research (ASR).
During a town hall as part of the December 2021 American Geophysical Union (AGU) Fall Meeting, AMF3 site science team lead Chongai Kuang shared where the mobile facility might go.
Kuang said that northern Alabama is the preferred region based on science-driven siting criteria developed and applied by the site science team. The criteria include:
a high frequency of deep convective storms, which are removed from a coastal influence
proximity to potential partner facilities
representative terrain and forested regions
a desirable range of human-caused and naturally occurring emissions.
This will be the second deployment of AMF3. From September 2013 to June 2021, AMF3 operated at Oliktok Point, Alaska. The new AMF3 deployment is expected to last five years.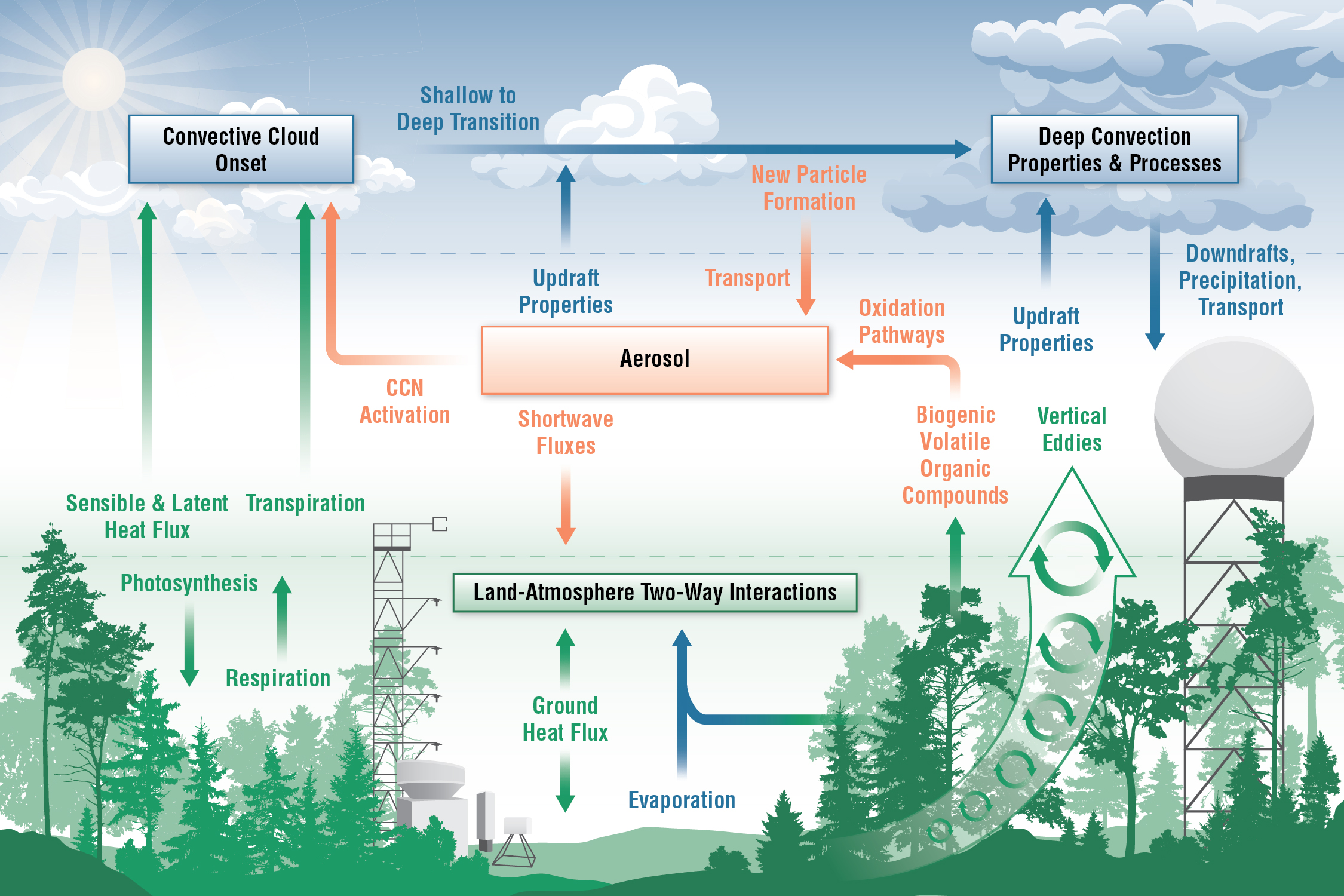 The Top Site Contender
Members of the AMF3 site science and operations teams visited Alabama in June, July, and November 2021. While there, they evaluated possible locations and logistical considerations for the AMF3 main site, an instrumented tower, and ARM radars.
As of December 8, the date of the AGU town hall, the leading candidate for the main site is near the Black Warrior Work Center (BWCC) in the Bankhead National Forest. The BWCC is about 60 miles southwest of Alabama's largest city, Huntsville.
(The "Black Warrior" name is commonly seen in Alabama. The city Tuscaloosa was named after a 16th-century Native American chief [spelling variations include Tuskaloosa, Tushkalusa, Tuskalusa, Tastaluca, Tascaluca, and Tuskaluza]. In the Choctaw language, "tʋshka" means "warrior," and "lusa" means "black," according to the city's website.)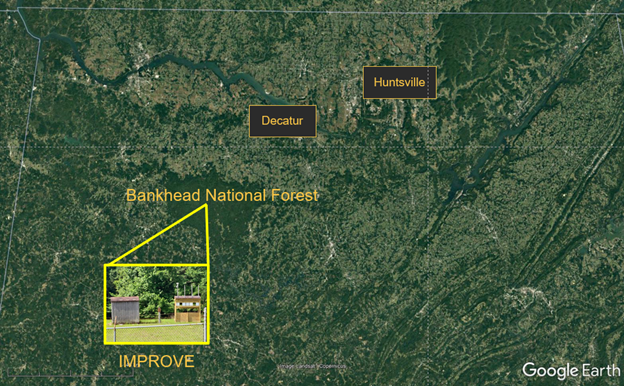 West to east, the Bankhead forest stretches across nearly 40 kilometers (about 25 miles) of northwestern Alabama.
Kuang noted the area's proximity to existing radar, lightning mapping array, and atmospheric profiling infrastructure. In addition, the area has relatively open land that could host ARM radars.
The U.S. Forest Service uses an area around the BWWC for regular maintenance activities. Also, a sampling site for the Interagency Monitoring of Protected Visual Environments (IMPROVE) network is located there. The IMPROVE network collects aerosol samples around the United States to determine the origins of haze in national parks, forests, and wilderness areas.
Kuang pointed out an area slightly southeast of the BWCC where ARM could place AMF3 instruments and containers with close access to power.
"If our engagements with the Forest Service and interactions move forward in a positive way, this is where we are hoping to have our main site for the AMF3," said Kuang.
Before anything becomes certain, the site science team is talking with IMPROVE network scientists to learn from their experience measuring aerosols in the area.
(Kuang is the aerosol topical area lead on the AMF3 site science team. The team's other topical area leads are Shawn Serbin for land-atmosphere interactions and Scott Giangrande for convective clouds. All three are based at Brookhaven National Laboratory in New York.)
ARM Associate Director for Operations Nicki Hickmon added that the final decision on the main site depends upon additional cost estimates and logistical information as well as siting approvals from the Forest Service, and other locations are still under consideration.
Forming Connections
In Alabama, site science and operations team members met with potential local partners with an eye on pursuing what Kuang calls "collaborative, interdisciplinary, transformational science."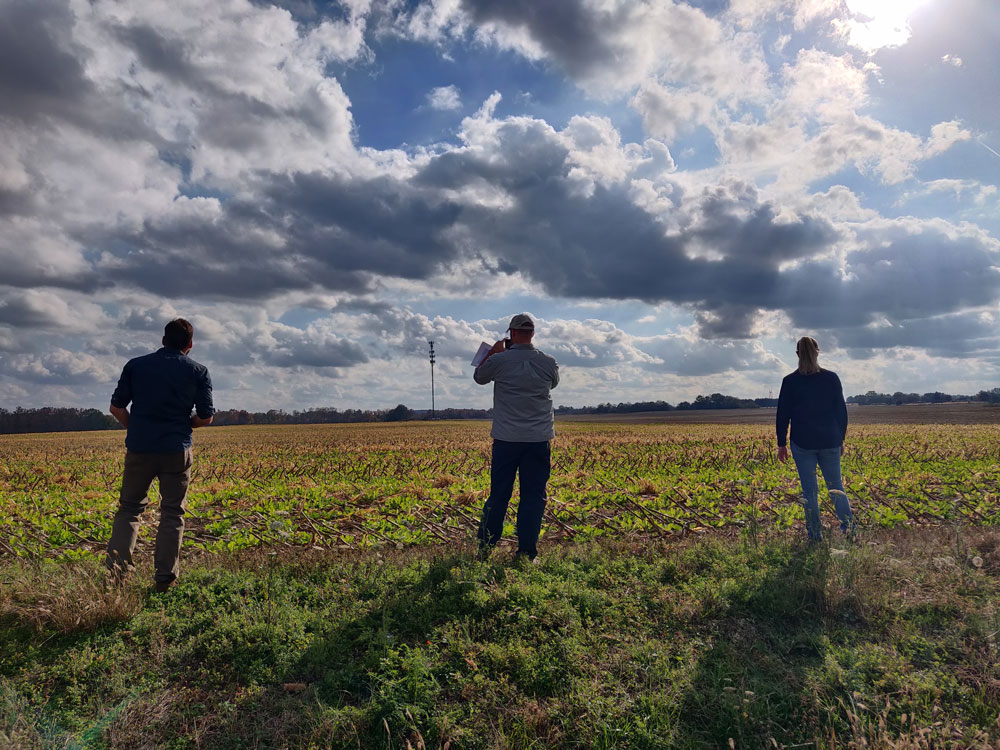 The ARM/AMF3 groups have connected with possible collaborators from the Forest Service and regional universities, including Alabama A&M University, the University of Alabama campuses in Huntsville and Tuscaloosa, and Auburn University.
Group members also have talked with representatives from NASA, NOAA, regional measurement networks, and research projects in the Southeastern United States.
Discussions about potential partnerships are ongoing.
Focus on Instrumentation
Kuang also gave an update on planned instrumentation and measurements for the AMF3 deployment.
At the main site, ARM will deploy an Aerosol Observing System for aerosol and trace gas measurements. The site science team also expects collection of the following core measurements:
shortwave (solar) and longwave (infrared) radiation coming from the sky and from the ground
aerosol profile retrievals
cloud properties and microphysics
surface carbon, water, and energy fluxes
surface meteorology
thermodynamic profiles.
"Our hope is that this deployment can be a potential testbed for application of artificial intelligence and machine learning techniques and capabilities to advance earth system predictability."
In addition, Kuang discussed plans for a 120- to 140-foot instrumented tower at the forested main site.
After the AMF3 main site begins operations, the deployment will move into a new phase: the installation of additional advanced and/or spatially distributed instrumentation.
"Our planned deployment and instrumentation for this phase is going to be informed by logistics, by budgetary constraints, and also by analyses performed by our site science team," said Kuang. "These include modeling studies and, in this case, also observing system simulation experiments."
Such experiments, said Kuang, statistically simulate the types of data that a given observing system design would collect to evaluate what effect observing that data would have upon model improvement.
View the planned instrumentation for the AMF3 deployment.
"Our hope is that this deployment can be a potential testbed for application of artificial intelligence and machine learning techniques and capabilities to advance earth system predictability," said Kuang.
What's Next?
Until February 28, 2022, registered in-person and virtual AGU attendees can watch the AMF3 town hall recording by logging in to the AGU meeting platform. The presentation slides are available on the ARM website.
After AGU, the site science team still wants feedback from the ARM/ASR community and broader scientific community about the AMF3 deployment. Those who wish to give feedback now can email the team.
More opportunities to formally engage with the site science team will be announced shortly.
Get more information about the Southeastern U.S. deployment.
# # #
Author: Katie Dorsey, Staff Writer, Pacific Northwest National Laboratory
ARM is a DOE Office of Science user facility operated by nine DOE national laboratories.