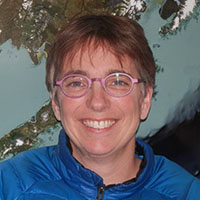 In June 2021, the Atmospheric Radiation Measurement (ARM) user facility's User Executive Committee (UEC) selected Jennifer Delamere as its new vice-chair.
ARM users elected Delamere, a research associate professor from the Geophysical Institute at the University of Alaska, Fairbanks, to the UEC in 2020. After officially beginning her term in January 2021, she now leads a new UEC subgroup focused on enhancing communication with the satellite community. Delamere is also on the subgroup for measurement uncertainty and communicating calibrations.
In January 2023, after the next election, Delamere will succeed current UEC chair Allison C. Aiken of Los Alamos National Laboratory, a process outlined in the committee's charter. This mechanism helps ensure continuity of operations and institutional knowledge as new members join the UEC and others roll off after serving up to four-year terms.
Much of Delamere's research focuses on the Arctic, using data from ARM's North Slope of Alaska (NSA) atmospheric observatory. She is a co-investigator on the Snow ALbedo eVOlution (SALVO) field campaign and an associate instrument mentor for a suite of precipitation instruments at the NSA.
Delamere also helped develop all three generations of the rapid radiative transfer model RRTM, a reference fast radiation code for scientific applications. The code resulted from ARM and Atmospheric System Research (ASR) efforts to improve calculations of clear-sky radiative transfer.
# # #
ARM is a DOE Office of Science user facility operated by nine DOE national laboratories.