ARM summer training event focuses on observations and modeling of clouds and precipitation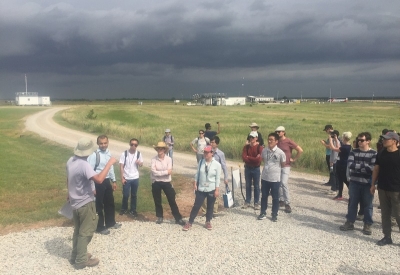 It was hot and humid in Norman, Oklahoma, when 24 graduate students and early career scientists from around the world arrived at the National Weather Center. They were joined by 12 instructors—atmospheric scientists from the United States and Europe—for the Atmospheric Radiation Measurement (ARM) user facility Summer Training and Science Applications event on observations and modeling of clouds and precipitation.
From July 14 to 21, 2018, the students immersed themselves in a rigorous program that focused on theoretical and practical work on the application of ground-based observations from a wide array of active and passive sensors.
ARM Technical Director Jim Mather says the selection process was very competitive. "We had many applicants, but ultimately, we could accommodate just a select group of graduate students and early career scientists. Just as with the first training we held in 2015, our goal is to help put them on a path to being outstanding scientists in the future."
Students were divided into six areas of emphasis—precipitation microphysics, ice/snow microphysics, high-latitude cloud systems, shallow cloud modeling, cloud fraction and liquid water content, and boundary layer studies. Training included a full day at ARM's Southern Great Plains atmospheric observatory, where students had hands-on exposure to 50-plus observation platforms, including radiometers, lidars, aerosol instrumentation, and ceilometers.
The weeklong training was "very intense," says instructor Pavlos Kollias of Stony Brook University and Brookhaven National Laboratory in New York, who also helped organize the event. "Each day we started working at 8 in the morning, and we finished at 6 in the evening. In addition to keynote lectures and discussion, students received in-depth, interactive instruction, and they participated in group learning activities. Moreover, they worked with world-renowned scientists using state-of-the-art instruments on real research."
The students impressed Kollias, a member of ARM's User Executive Committee, which serves as the official voice of the user community in its interactions with ARM management.
"They were motivated, open to learning, and produced real science in just a short time," he says. "Each has a bright future in atmospheric science."
Kollias notes: "Outreach like this training program is the tip of the spear of ARM. We can never underestimate the need for great new talent to challenge prevailing thought and move our science forward."
Mather believes that it is important to prepare early career scientists and highly capable graduate students for the next step in their career by cultivating the next generation of scientists who are passionate about their research and showing them how ARM can be a valuable part of their work.
The 24 students were:
Fan Yang, Brookhaven National Laboratory (New York)
Katie Towey, City College of New York
Ya-Chien Feng and Jungmin (Minnie) Park, Colorado State University
Minttu Tuononen, Finnish Meteorological Institute
Xiaoyu Hu, Lanzhou University (China)
Cheng Tao, Lawrence Livermore National Laboratory (California)
Hyunho Lee, NASA-Goddard Institute for Space Studies at Columbia University (New York)
Sheng-Lun Tai, Pacific Northwest National Laboratory (Washington state)
Lauren Wheeler, Sandia National Laboratories (New Mexico)
Kevin Sanchez, Scripps Institution of Oceanography (California)
Jia Wang and Zeen Zhu, Stony Brook University (New York)
Sophie Mayne, Texas A&M University
Jingjing Tian and Peng Wu, University of Arizona
Leif-Leonard Kliesch and Maria Toporov, University of Cologne (Germany)
Kristin Butt, University of Hawaii
Luke McMichael, University of Kansas
Sarah Borg and Siddhant Gupta, University of Oklahoma
Kyle Fitch and McKenna Stanford, University of Utah.
The 12 instructors were:
Virendra Ghate, Argonne National Laboratory (Illinois)
Thijs Heus, Cleveland State University (Ohio)
Ann Fridlind, Goddard Institute for Space Studies at Columbia University (New York)
Pavlos Kollias and Mariko Oue, Stony Brook University (New York)
Susanne Crewell and Ulrich Löhnert, University of Cologne (Germany)
Christopher Williams and Maximilian Maahn, University of Colorado, Boulder
Dmitri Moisseev, University of Helsinki, Institute for Atmospheric & Earth System Research (Finland)
Manfred Wendisch, University of Leipzig, Leipzig Institute for Meteorology (Germany)
Greg McFarquhar, University of Oklahoma, Cooperative Institute for Mesoscale Meteorological Studies.
# # #
The ARM Climate Research Facility is a DOE Office of Science user facility. The ARM Facility is operated by nine DOE national laboratories.