Editor's note: Chongai Kuang leads the site science team that will develop a science plan and initial research project for the upcoming Southeastern U.S. deployment of the third ARM Mobile Facility (AMF3). Kuang, from Brookhaven National Laboratory in New York, provided the following post.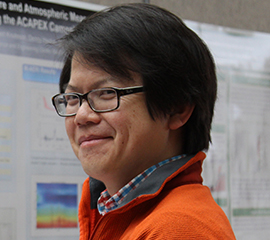 As we approach the end of 2021, I am happy to share that we are also closer to a decision about where ARM will deploy AMF3 in the Southeastern United States. After developing the site short list earlier this year, representatives from ARM and the AMF3 site science team went on three site visits during the summer and fall. The latest visit took place in mid-November.
In addition to visiting candidate sites and evaluating their operational suitability, we have met in person and virtually with potential university and agency collaborators in the region.
It has been an interesting time to develop a deployment, especially with ongoing uncertainty around COVID. Still, we have made great progress in our pre-deployment activities, and I expect there will be big news to report soon.
Community Engagement Activities
The AMF3 site science team continues to engage with the ARM/Atmospheric System Research (ASR) community and the broader scientific community about the upcoming deployment. In particular, we have focused on scientific goals, siting, and possible partnerships.
In June, several of us on the site science team attended the virtual Land-Atmosphere Interactions Workshop 2021, jointly organized by representatives from ARM, ASR, and AmeriFlux. On behalf of the AMF3 team, I gave a talk about critical "surface-up" observations to characterize land-atmosphere interactions on boundary-layer processes. (The presentation is available to watch on YouTube.)
Allison Steiner and Pierre Gentine, who are on the AMF3 team, also presented during the workshop. Allison spoke about capturing feedbacks between the land surface and atmosphere, and Pierre discussed land-atmosphere coupling. (You can watch the recordings of Allison and Pierre on YouTube.)
We heard from many of you during the 2021 Joint ARM User Facility/ASR Principal Investigators Meeting, which took place about two weeks after the land-atmosphere interactions workshop. During a breakout session about representing secondary organic aerosol (SOA) processes across scales, I gave a brief update on the Southeastern U.S. deployment. Also, I brought up some SOA-related considerations and questions for siting and measurements, which we then discussed in a "sub-breakout session." (If you want to watch the presentation and the summary of the SOA sub-breakout session, it begins here around 30:49.)
Coming Up: Town Halls
We invite you to hear the latest about the AMF3 deployment and share your feedback during the 2021 American Geophysical Union (AGU) Fall Meeting. Our virtual AGU town hall is scheduled from 11:15 a.m. to 12:15 p.m. Central time Wednesday, December 8.
If you won't be attending AGU, we will have another town hall during the 2022 American Meteorological Society (AMS) Annual Meeting in Houston, Texas. Currently, it is scheduled as an in-person town hall from 12:15 to 1:15 p.m. Central on Thursday, January 27. However, travel restrictions might lead us to make the AMS town hall virtual.
Thank you to everyone who has provided valuable feedback along the way, and we look forward to more engagement during the upcoming town halls. If you have feedback to share at any time, please reach out to the site science team. We are eager to hear from you!