Researchers test instruments and record unique data by flying tethered balloon systems over the Southern Great Plains
This is the first article in a series about small campaigns held in 2019 at ARM's Southern Great Plains atmospheric observatory.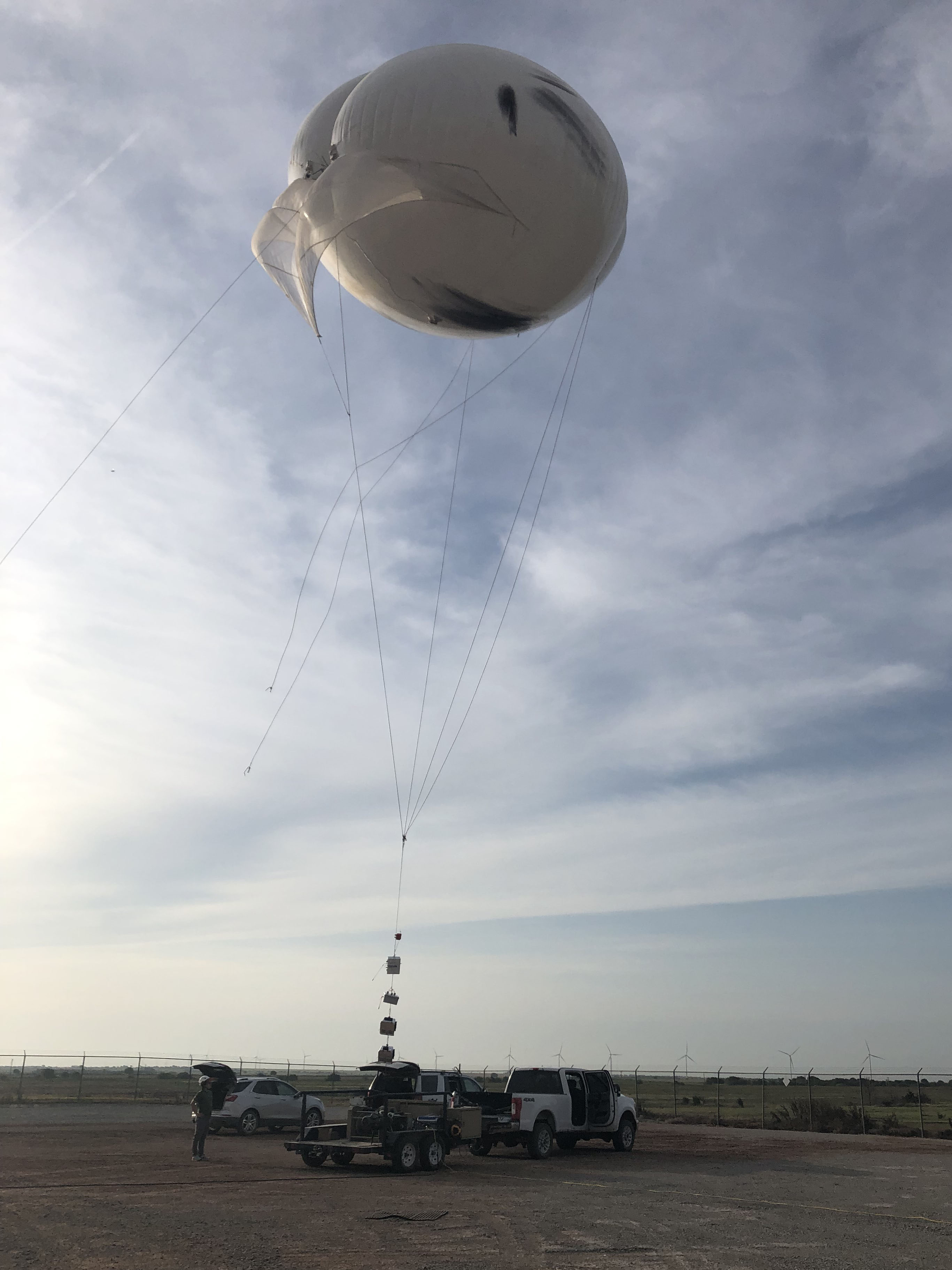 Some field campaigns sponsored by the Atmospheric Radiation Measurement (ARM) user facility are called "small campaigns." By definition, they cost ARM less than $300,000; may use guest instruments; and do not involve as many researchers or instruments as typical large-scale ARM field campaigns.
Small campaigns also do not last as long―usually a year or less, says Mike Ritsche, manager of ARM's Southern Great Plains (SGP) atmospheric observatory.
Ritsche calls small campaigns "short-term campaigns," and says they are getting more popular across ARM, including at the SGP, the U.S. Department of Energy (DOE) user facility's largest and oldest fixed observatory.
Notably, fiscal year 2019 (FY2019) marked the first ARM tethered balloon system (TBS) flights at the SGP. Such ARM-sponsored flights were already routine at Oliktok Point on the North Slope of Alaska.
ARM TBS flights are coordinated by Dari Dexheimer, an atmospheric scientist at Sandia National Laboratories in New Mexico. In 2019, she talked about at least one big mystery that TBS flights―with their wide variety of balloons, helikites, winches, platforms, and instruments―could help unravel: why aerosol particle concentrations decrease with increasing altitudes.
Aerosols are tiny particles in the air that play a role in cloud formation and in scattering or absorbing radiative energy from the sun.
"The SGP is a great facility for TBS science," says Dexheimer, in part because of "the helpfulness and capabilities of the local site operators."
TBS flights in 2019, she adds, also allowed a variety of aerosol concentrations to be sampled, and for systems to be tested in high sustained winds and hot temperatures.
More Small Campaigns
TBS included, the popularity of small campaigns at the SGP, in part, is because more campaigns are studying aerosols, says Ritsche, and also because of an uptick in tests on a variety of sensors in development.
For FY2019, the ARM Infrastructure Management Board approved 13 short-term campaigns at the SGP, says Ritsche, up from four in both FY2017 and FY2018.
"The increased number of smaller campaigns means there has been increased competition for space," he says. As a result, there are plans to replace the SGP's present Guest Facility building and optical trailers with a larger structure.
However, small was not all at the SGP during 2019, says Ritsche. There were 24 active field campaigns in place of every size and duration, including operations by long-term instruments.
Ballooning Balloon Research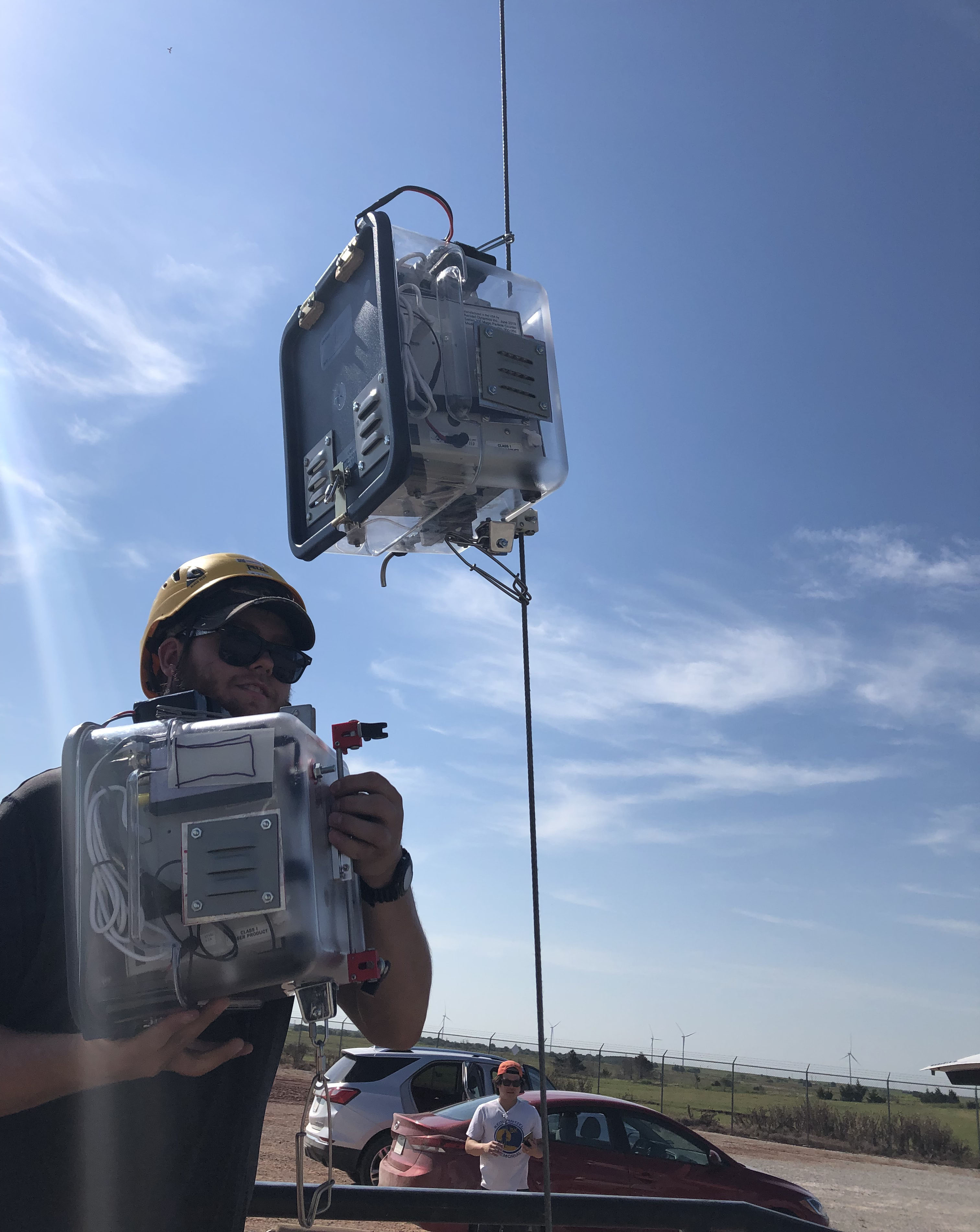 TBS deployments loomed especially large during small campaigns in 2019 at the SGP. Starting in July, technicians rigged boxed instruments along cables and winched them into the air like strings of Chinese lanterns.
In general, the idea was to use TBS to get vertical profiles of how atmospheric particles are distributed. The same profiles will also help researchers track the origins of such particles.
There are advantages, says Fan Mei, ARM Aerial Facility science manager. TBS technology reduces error, risk, and cost in environmental research that requires collecting airborne data at altitudes of about 1,500 meters (4,920 feet).
New Year, New Flights
In 2020, TBS flights will resume at the SGP, including guest instrument flights, says Dexheimer. There will be two weeks each of TBS operations in February, May, July, and September.
Running again in 2020 will be test flights of a four-stage cascade impactor that separates aerosols into different class sizes.
The same device, now improved, was tested aboard a TBS in 2019 by staff from ARM and another DOE user facility, where samples are analyzed: the Environmental Molecular Sciences Laboratory (EMSL).
Preliminary analyses from the 2019 cascade impactor experiments show differences in aerosol composition at various altitudes, including a considerable increase in sulfates starting at 500 meters (1,640 feet).
The results also show a lot of dust particles at higher altitudes―proof that TBS experiments can add to what we know about the long- and short-range transportation of atmospheric particles. The SGP is known to experience dust transport from Asia as well as the U.S. Southwest.
TBS researcher and EMSL chemist Swarup China, who analyzed the 2019 samples, says that in 2020 the cascade impactor will be modified to be both size- and time-resolved―all to get a better vertical profile of aerosol composition.
The Science of Size
Chongai Kuang, an aerosol scientist from Brookhaven National Laboratory in New York, used a small campaign to begin a study on vertically resolved new particle formation. He and his team deployed a pair of condensation particle counters on a TBS during initial flights in July and September 2019.
In the upper atmosphere, such fresh and small nucleated particles are thought to be a significant source of cloud condensation nuclei.
Kuang's aim is to study the atmospheric processes responsible for the formation and vertical transport of these newly formed particles.
He and others do this by extending the vertically resolved aerosol-size detection limits down to 3 nanometers or smaller. That's closer to the sizes at which new particles form.
During the fall meeting of the American Geophysical Union in December 2019, Kuang pointed out that, to date, there have been very few vertically resolved size-distribution measurements of newly formed particles.
Another round of TBS flights with the condensation particle counters aboard is planned for spring 2020.
'A Basic Science Lesson'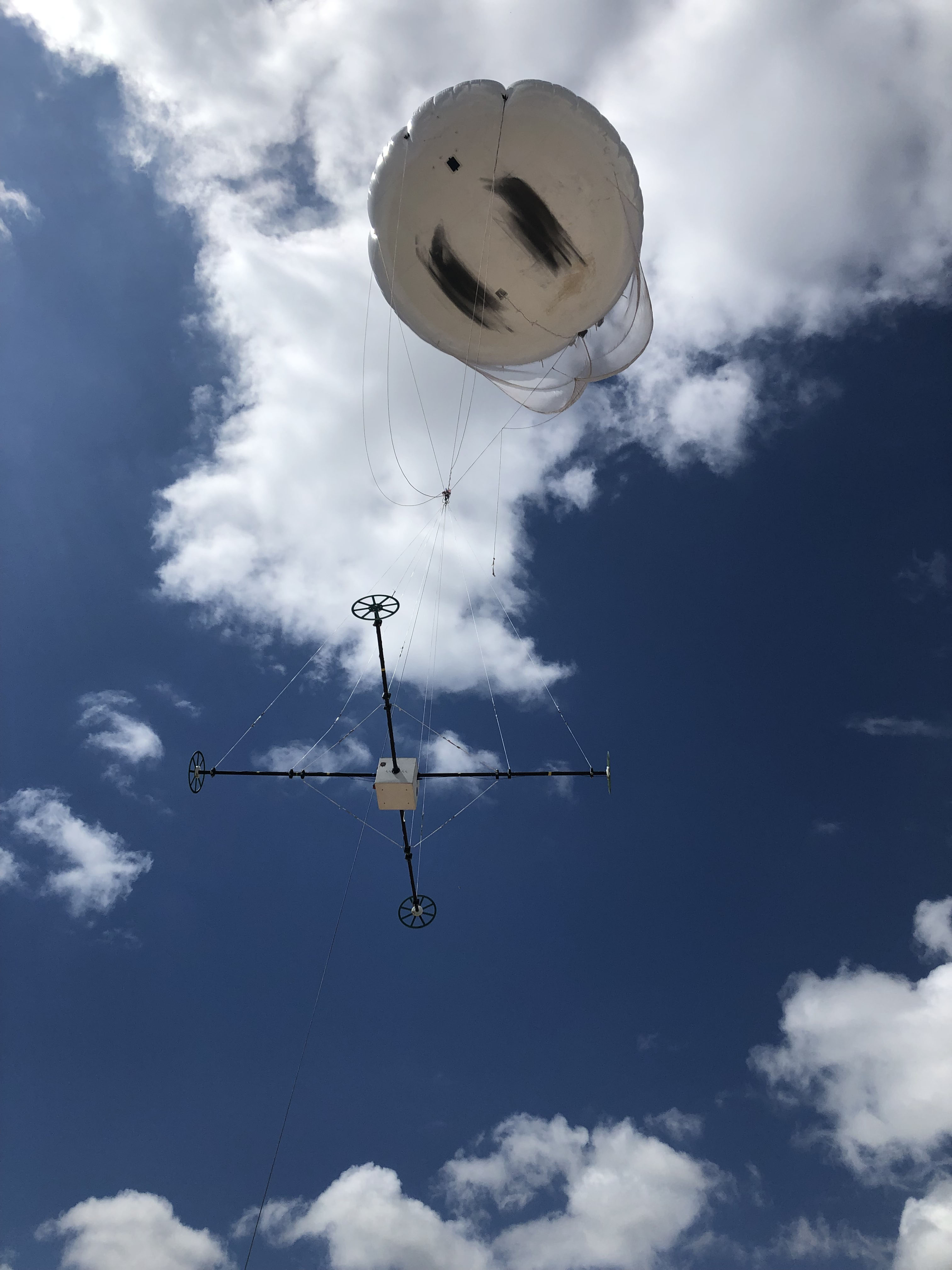 Among 2019 small campaigns at the SGP, there were a few reverses and disappointments.
Take the case of the BTEM Low-Altitude Test campaign. ("BTEM" stands for the Balloon-borne, Transverse Electromagnetic Measurement instrument, which was launched on a TBS at the SGP in July.)
"I have to say that it appears the experiment was a bust," writes Robert Grimm of the Southwest Research Institute in Boulder, Colorado, who was the lead BTEM scientist.
"Oklahoma—where the wind comes sweepin' down the plains," he adds, "caused too much turbulence to get good measurements.  And there was some other kind of vibration coming up the tether."
Grimm tested his prototype system, which he had tried out in two stratospheric balloon flights elsewhere. The SGP campaign was designed to get data complementary to those earlier tests.
To find the data hoped for at the SGP, Grimm is looking into a hot-air balloon flight somewhere else. He is readying the instrument for spaceflight proposals in the next decade, such as searching for groundwater on Mars.
"I remain grateful for (ARM's) interest and support," writes Grimm, "in spite of being dealt a basic science lesson—that not everything works as planned."
# # #
ARM is a DOE Office of Science user facility operated by nine DOE national laboratories.