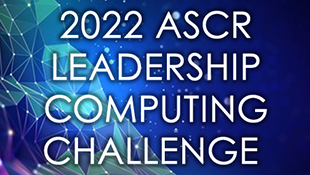 The application deadline is approaching for the Advanced Scientific Computing Research (ASCR) Leadership Computing Challenge (ALCC) program. Preproposals for the 2022–2023 allocation year are due Friday, December 17, 2021.
ALCC is one of several allocation programs for ASCR supercomputing facilities and supports the ASCR program's efforts to further U.S. Department of Energy mission science, respond to national emergencies, or broaden community access to leadership computing facilities.
Open to scientists from the research community in industry, academia, and national laboratories, ALCC allocates 10% to 30% of the computational resources at ASCR's three high-performance computing facilities. The facilities are the National Energy Research Scientific Computing Center (NERSC) at Lawrence Berkeley National Laboratory and the Leadership Computing Facilities at Argonne and Oak Ridge national laboratories. These resources represent some of the world's fastest and most powerful supercomputers.
ALCC issues one-year allocation awards that are active from July 1 to June 30 of the following calendar year.
Decisions on preproposals will be communicated Monday, January 10, 2022.
Read the complete call information, and learn how to apply.
# # #
ARM is a DOE Office of Science user facility operated by nine DOE national laboratories.