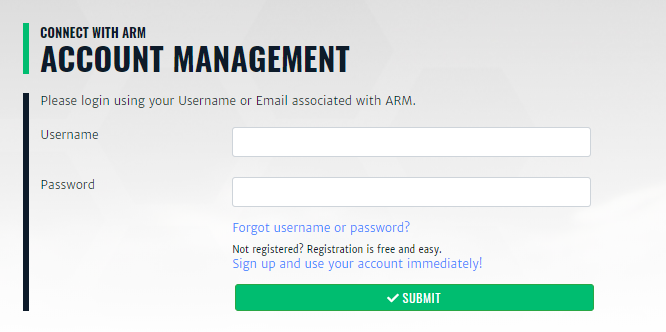 The Atmospheric Radiation Measurement (ARM) user facility now provides new online self-service options for users wanting to manage their ARM accounts.
After logging in to their accounts through the Account Management web page, users can go to the Subscriptions page and choose which email communications to receive. In addition to ARM's external newsletter—the Atmospheric Observer—and the Atmospheric System Research (ASR) newsletter, users can now opt in to receive information from ASR's four working groups.
ARM also offers a new option for users to upgrade their accounts from limited use—a mailing list account—to a full account. In addition to receiving facility news, events, research highlights, publications, working group information, and funding and employment opportunities through the ARM mailing list, users with a full account can do the following:
log in to ARM's Data Discovery browser and order data
propose and conduct field campaigns
make in-person or virtual site visits.
To see whether you have a limited or full account, log in to the Account Management page. When you log in as a limited user, you will see the option to create a full ARM account.

Need More Help?
You can self-serve updating your personal profile or subscription settings by logging in to Account Management. However, if you run into issues that cannot be solved on the Account Management page, ARM has a new email address for you to contact: accounts@arm.gov.
Emailing this address will help with the following:
email distribution list setup and maintenance (e.g., adding and removing subscribers, assigning group and email list ownership) for campaign-related emails, ASR working group email lists, and programmatic communications
email distribution assistance (e.g., emails sent to @arm.gov distribution lists that have not arrived at the destination addresses or other issues)
information about your current email distribution list memberships, beyond those listed in the Account Management self-service page
newsletter subscription assistance (e.g., not receiving the newsletter)
assistance with a username reminder or password reset, IF those options do not work for you on the Account Management page
if you encounter issues setting up a new user account (if you do not have a user account, go to the Create an Account page)
if you need to reactivate an inactive account.
Be sure to bookmark the Account Management page and add accounts@arm.gov to your email address book. You can also request assistance by clicking on the Ask Us link at the bottom of arm.gov and choosing, "I need help with…ARM User Account."
# # #
ARM is a DOE Office of Science user facility operated by nine DOE national laboratories.