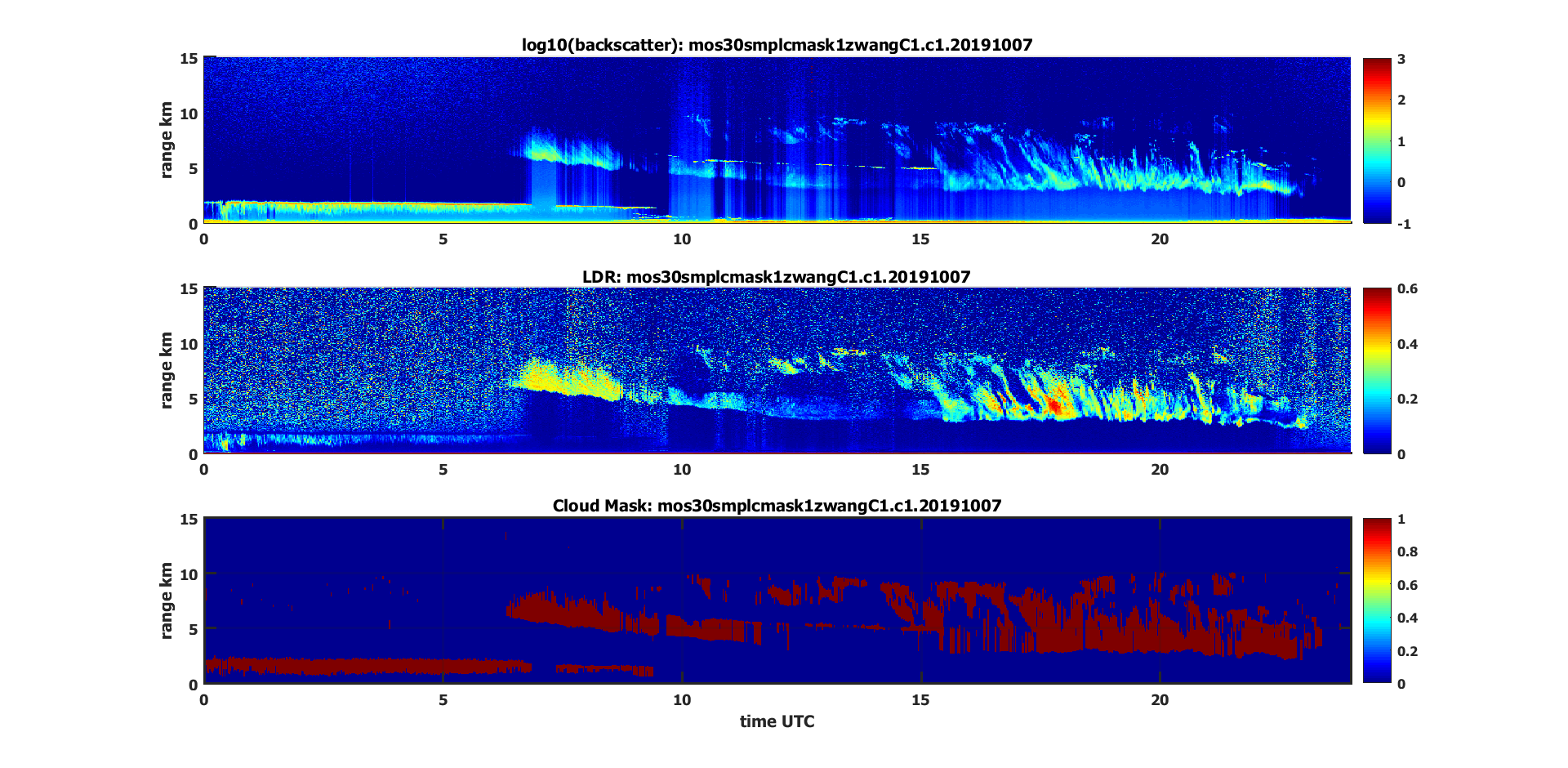 Production data for Atmospheric Radiation Measurement (ARM) user facility sites operating fast-switching polarized micropulse lidars are now available from an updated version of the Micropulse Lidar Cloud Mask (MPLCMASK) value-added product (VAP). MPLCMASK provides cloud boundaries and normalized relative backscatter, and computes the linear depolarization ratio (LDR).
The updated version of MPLCMASK includes an improved application of MPL instrument corrections and calculates the LDR using the methodology developed by Flynn et al. (2007), rather than a straight ratio. Users can expect a significantly improved LDR field.
Production data from the updated MPLCMASK VAP are now available for ARM's Southern Great Plains, Eastern North Atlantic, North Slope of Alaska, and Tropical Western Pacific observatories, and for the following ARM mobile deployments:
ARM Cloud Aerosol Precipitation Experiment (ACAPEX)
ARM Madden-Julian Oscillation Experiment at Gan Island (AMIE-Gan)
ARM West Antarctic Radiation Experiment (AWARE)
Biogenic Aerosols – Effects on Clouds and Climate (BAECC)
Cloud, Aerosol, and Complex Terrain Interactions (CACTI)
Green Ocean Amazon (GoAmazon2014/15)
Layered Atlantic Smoke Interactions with Clouds (LASIC)
Marine ARM GPCI Investigation of Clouds (MAGIC)
Measurements of Aerosols, Radiation, and Clouds over the Southern Ocean (MARCUS).
Scientists can begin using these data now. All available mplpolfsM1.b1 data will be processed with the updated VAP. Data from the Cold-Air Outbreaks in the Marine Boundary Layer Experiment (COMBLE) and initial data from the Multidisciplinary Drifting Observatory for the Study of Arctic Climate (MOSAiC) expedition are expected to be available by October 2020.
A second MPL cloud mask product has been developed by using the backscatter and LDR data products from the updated MPLCMASK VAP and implementing a machine-learning model. Evaluation data for a test period are expected to become available later in 2020.
More information on MPLCMASK is available on the VAP web page.
How are you using the data, and how well are they working for you? To share your experience or to ask questions, contact translator Damao Zhang, assistant translator Donna Flynn, developer Chitra Sivaraman, or MPL instrument mentor Paytsar Muradyan.
Access the data set in the ARM Data Center. (Go here to create an account to download the data.)
To cite the MPLCMASK data, please use doi:10.5439/1508389.
Reference: Flynn CJ, A Mendoza, Y Zheng, and S Mathur. 2007. "Novel polarization-sensitive micropulse lidar measurement technique." Optics Express, 15(6), 10.1364/oe.15.002785.
# # #
ARM is a DOE Office of Science user facility operated by nine DOE national laboratories.