Editor's note: ARM Director Jim Mather provided the following post.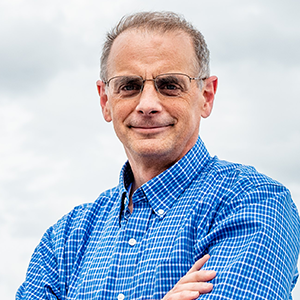 Over the years, ARM has conducted surveys on a variety of topics, but last year we decided to begin conducting a survey to understand how well we are serving our users. We plan to make this an annual survey.
The user survey went out to the broad ARM community around the time of the ARM/ASR joint meeting in October, and we left it open until after the American Meteorological Society annual meeting in early January. I'd now like to share results from the survey with you.
Forty-four people submitted responses and indicated on a scale of 1 to 5 (strongly disagree to strongly agree) their reactions to the 10 statements below. In each case, a higher number indicates a greater degree of satisfaction with ARM's service to the community.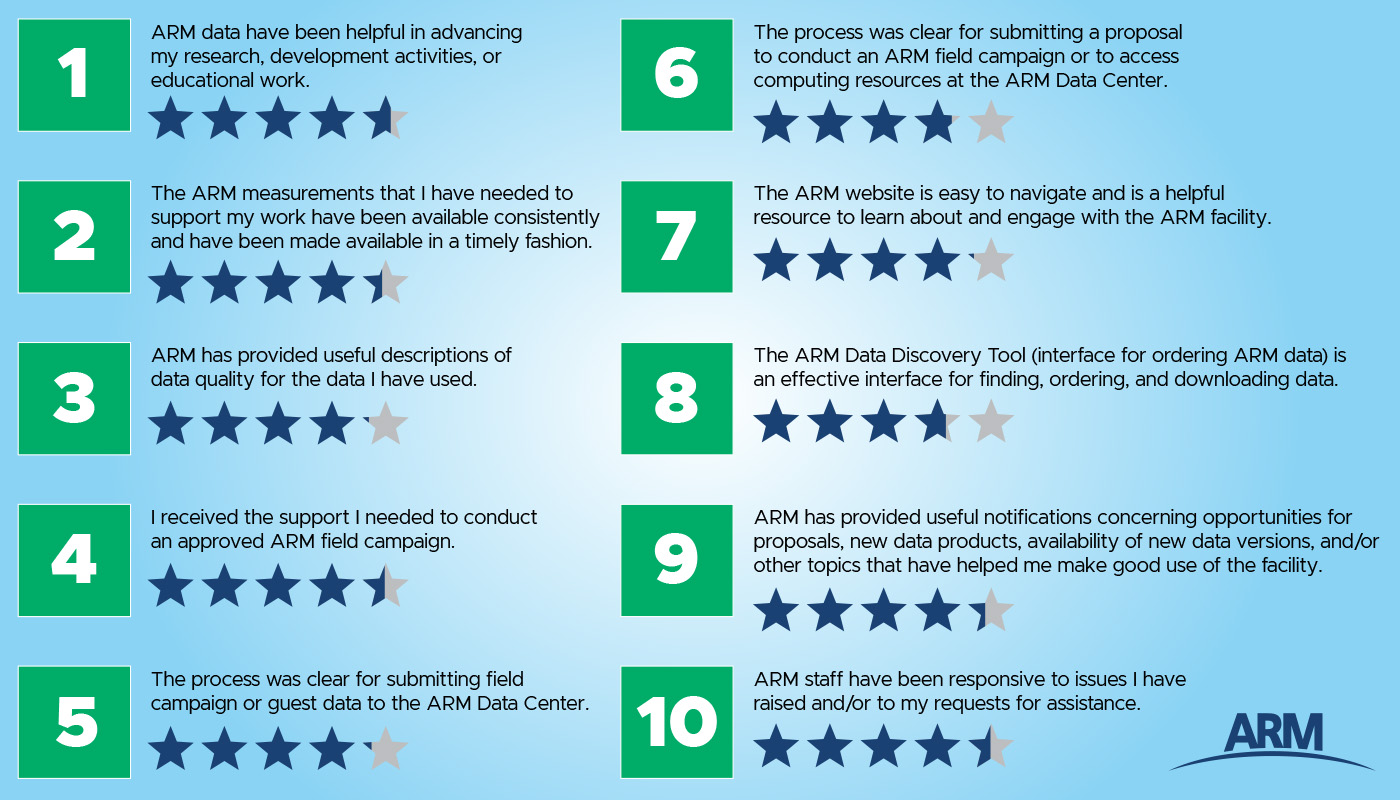 In general, scores were high in all areas. Scores tended to be highest for statements related to ARM's impact and support from ARM staff (e.g., 1, 4, and 10). This was encouraging to see.
Scores tended to be lower for statements related to online resources and processes (e.g., 3, 6, 7, and 8). This is not too surprising given ARM's ever-increasing complexity; however, it is a good reminder that we need to keep working on these areas.
Related to online resources, a refresh is planned for the ARM website in 2024. We currently have a separate survey asking for feedback about the website, including what is working well and what needs improvement. If you haven't participated in that survey, you can still complete it now, particularly if there is something about the website that you would like to see changed or that you feel is missing.
The user survey also included a question for free-form feedback, and a few of you took advantage of that opportunity. I was happy to see that some of the responses were very positive, with appreciation expressed for strong support from the instrument mentors and in the field and for "setting the bar for data sharing and metadata."
A few of you called out challenges with finding or retrieving data. We are continually working to improve the Data Discovery interface, such as a recent overhaul of the recommended datastreams feature to provide updated recommendations, the addition of data epochs (measurement periods with well-characterized data quality or alignment with specific science goals), and continual improvement of data accessibility for historical field campaigns; however, we recognize that with over 10,000 datastreams, issues can arise.
"The user survey provides a broad view of how ARM is doing in serving you. Thanks to those of you who responded. It will help us make ARM better and will serve as a baseline for future years."
If you do run into an issue, please let us know and be as specific as you can so that we can try to address this for you and others. For example, one of you asked about no longer being able to use the "mget" function while FTP'ing files from the ARM Data Center. This function is still available, and we have tested that it is still working; however, some institutions are phasing out FTP.
Someone else asked how to get started with ARM without studying the whole ARM website. I would encourage anyone new to ARM to start with our Resources for New ARM Users. You can ask for help or provide feedback in a number of places on the web. You can select "Ask Us" in the footer of any page on the website, or you can select the red Feedback button on the right side of ARM.gov or Data Discovery. There is also a feedback option integrated into the data ordering process.
The user survey provides a broad view of how ARM is doing in serving you. Thanks to those of you who responded. It will help us make ARM better and will serve as a baseline for future years.
I hope that when we send out this survey again this fall, you will consider participating. We would love to hear from you!