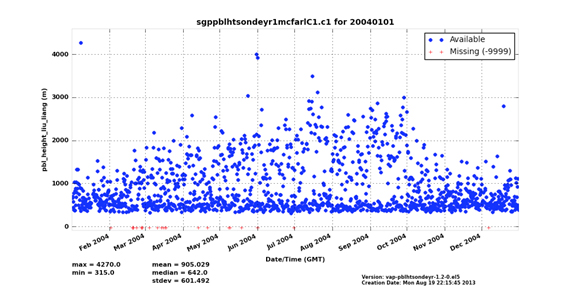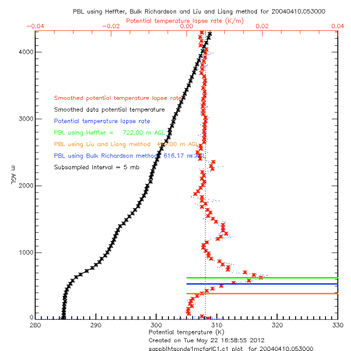 The structure and depth of the planetary boundary layer (PBL) is important to a wide range of atmospheric processes, including cloud formation; aerosol mixing, transport, and transformation; and chemical mixing, transport, and transformation. Radiosonde measurements are one of the most common ways for determining PBL height. This value-added product (VAP) implements three different methods for estimating PBL heights from radiosonde data. The Heffter and Liu-Liang methods involve gradients in the potential temperature profile, with the Liu-Liang method also considering the height of the low-level jet under certain meteorological conditions. The third method is based on the profile of the bulk Richardson number. Near-surface potential temperature gradients are used to classify the boundary-layer regime as either stable, convective, or neutral. Both daily and annual summary output files are produced.
The different algorithms used in this VAP can produce different estimates of the PBL height. The definition of PBL height is somewhat subjective, and there is no "truth" against which to evaluate these estimates. Users are urged to become familiar with the three methods and use their judgment as to which algorithm/estimate is most appropriate to employ for their specific applications.
For more detail, see Planetary Boundary Layer (PBL) Height Value Added Product (VAP): Radiosonde Retrievals technical report.